Carnality in Action
In His Presence: Proverbs 21:21
The apostle Paul had spent several years teaching and preaching at the church in Corinth. He was concerned because there was division among the members. "I exhort you, brethren, by the name of our Lord Jesus Christ, that you all agree and that there be no divisions among you, but that you be made complete in the same mind and in the same judgment. For I have been informed concerning you, my brethren . . . that there are quarrels among you. Now I mean this, that each one of you is saying, 'I am of Paul,' and 'I of Apollos,' and 'I of Cephas,' and 'I of Christ.' Has Christ been divided? Paul was not crucified for you, was he?" (1 Corinthians 1:10-13).
The Corinthians had time to mature, but they were distracted and began to argue among themselves. Instead of growing, they were regressing. "You are still fleshly. For since there is jealousy and strife among you, are you not fleshly, and are you not walking like mere men? For when one says, 'I am of Paul,' and another, 'I am of Apollos,' are you not mere men?" (1 Corinthians 3:3-4).
Have you ever said, "I'm only human"? That's non-Christian talk—talking like "mere men." Paul was saying that these Christians were acting like everyone else around them. And Corinth was known to be a wicked city. Paul was not complimenting these Christians. Instead of acting like the new man or woman they had become, they were rebellious believers.
One Minute Please
Behaving like "mere men" is an act of the will. Carnality is perpetuated by the will.
Watch Online Videos of Dr. Tony Evans and The Urban Alternative at LightSource.com
and
Listen to Dr. Tony Evans Online Broadcasts at OnePlace.com.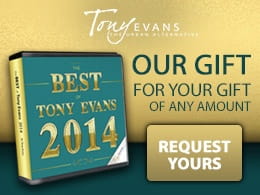 The Best of Tony Evans 2014
The Best of Tony Evans 2014 is a collection of some of Dr. Evans most powerful messages of the year.
Request your copy
of
The Best of Tony Evans 2014
CD Series for your gift of any amount.