Dullness of Hearing
In His Presence: 2 Corinthians 5:20
Carnal Christians are characterized by a willful refusal to grow. The writer of Hebrews says that they "have become dull of hearing. For though by this time [they] ought to be teachers, [they] have need again for someone to teach [them] the elementary principles of the oracles of God, and [yet they] have come to need milk and not solid food. For everyone who partakes only of milk is not accustomed to the world of righteousness, for he is an infant. But solid food is for the mature, who because of practice have their senses trained to discern good and evil" (Hebrews 5:11-14).
The writer here says they had become dull of hearing. Notice that he says they havebecome dull of hearing, not that theyare dull of hearing. This implies that they used to be good listeners at one time, but that changed. They had become willfully rebellious against God. They started by being neglectful and disinterested, and then they became insensitive to sin.
The Greek term used here to mean "dull of hearing" has to do with slowness of perception due to moral laxness. It was the word used as an epitaph for a mule! So the writer was telling his readers that they had become like mules. Now mules are not the greatest thinkers; they are used for manual labor. The mule-minded Christians had regressed so much that they were of little value to God—not because God had made them that way, but because they had become that way.
One Minute Please
People become dull of hearing as a result of choices they have made.
Watch Online Videos of Dr. Tony Evans and The Urban Alternative at LightSource.com
and
Listen to Dr. Tony Evans Online Broadcasts at OnePlace.com.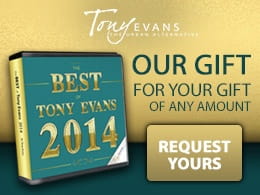 The Best of Tony Evans 2014
The Best of Tony Evans 2014 is a collection of some of Dr. Evans most powerful messages of the year.
Request your copy
of
The Best of Tony Evans 2014
CD Series for your gift of any amount.