Man Must Lead
In His Presence: Ecclesiastes 3:9-12
"I want you to understand that Christ is the head of every man, and the man is the head of a woman, and God is the head of Christ"(1 Corinthians 11:3).
God has created a systematic chain of command by which He operates. He expects this chain of command to become part of our lives as well. Even Jesus Christ, the Son of God, comes under the authority of God the Father. A man is to place himself under the lordship of Jesus Christ. This is not a statement of equality, but of function. God ordained this order at creation. Further, a woman comes under the authority of her husband as a statement of submission to God.
What happens when we break the chain of command? Satan began his plan of attack on man right in the Garden of Eden. He got Eve and Adam to switch roles. Eve took the lead and Adam became the follower. It was a disastrous experience. Sin was introduced to the world along with its companions, death and disobedience.
God has stitched women in such a way that they are built to be responders. When the man leads the home by placing himself under the lordship of Jesus Christ, the woman will follow. But for a follower to be a good follower, they must have someone worth following. If the man refuses to recognize the authority of Jesus in his life, then the woman will step into the leadership role.
One Minute Please
The biblical definition of real manhood is a man who leads his family in the worship of God by submitting to his Lord.
Watch Online Videos of Dr. Tony Evans and The Urban Alternative at LightSource.com
and
Listen to Dr. Tony Evans Online Broadcasts at OnePlace.com.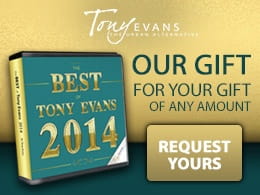 The Best of Tony Evans 2014
The Best of Tony Evans 2014 is a collection of some of Dr. Evans most powerful messages of the year.
Request your copy
of
The Best of Tony Evans 2014
CD Series for your gift of any amount.