What Are Carnal Christians?
In His Presence: 1 Timothy 2:1-4
What is a carnal Christian? Carnality is that spiritual state where a born-again Christian knowingly and persistently lives to please and serve self rather than Christ. Carnality is an issue with Christians only, because a carnal Christian is a genuine Christian. These people have placed their faith in the finished work of Jesus Christ alone, and have been born again a second time. It is possible for Christians to be on our way to heaven but be of no good to God on earth.
Christians are experiencing a crisis of carnality. Many men, women, and young people are only half-stepping with Christ. God has too many children who are not sure whose family we really want to be a part of. This indecision has led to untold agony, unanswered prayers, emotional weakness, physical weakness, loss of peace, loss of joy, and lack of stability. This does not mean that every time a Christian experiences a problem it implies that he or she is carnal. However, far too many of us are experiencing too many failures because we are, in fact, carnal and only half-stepping with the Gospel.
The apostle Paul addressed this issue with the church in Corinth: "I, brethren, could not speak to you as to spiritual men, but as to men of flesh, as to infants in Christ. I gave you milk to drink, not solid food; for you were not yet able to receive it. Indeed, even now you are not yet able, for you are still fleshly" (1 Corinthians 3:1-3).
One Minute Please
Do you want to be part of God's family or the world's family?
Watch Online Videos of Dr. Tony Evans and The Urban Alternative at LightSource.com
and
Listen to Dr. Tony Evans Online Broadcasts at OnePlace.com.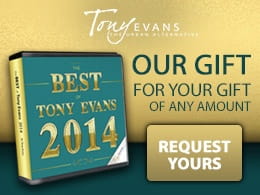 The Best of Tony Evans 2014
The Best of Tony Evans 2014 is a collection of some of Dr. Evans most powerful messages of the year.
Request your copy
of
The Best of Tony Evans 2014
CD Series for your gift of any amount.