A Cheering Gleam
by Berni Dymet
Mark 12:30 "you shall love the Lord your God with all your heart, and with all your soul, and with all your mind, and with all your strength."
I just want to share something with you today, that I read a few years back in AW Tozer's book, the Pursuit of God. He writes:
"In this hour of all but universal darkness one cheering gleam appears. There are to be found increasing numbers of people whose lives are marked by a growing hunger after God Himself.
They won't be put off with words or shallow logic. They won't be content to busy themselves with nervous activity and yet to feel this inner emptiness. They are athirst for God.  And they won't be satisfied until they have drunk deeply from this fountain of living water. They desire God above all other things.
They want to taste, to touch with their hearts, to see with their inner eyes the wonder that is God.
I want to deliberately encourage this mighty longing after God."
Jesus waits to be wanted. It's too bad that with so many of us He waits so long, so very long in vain.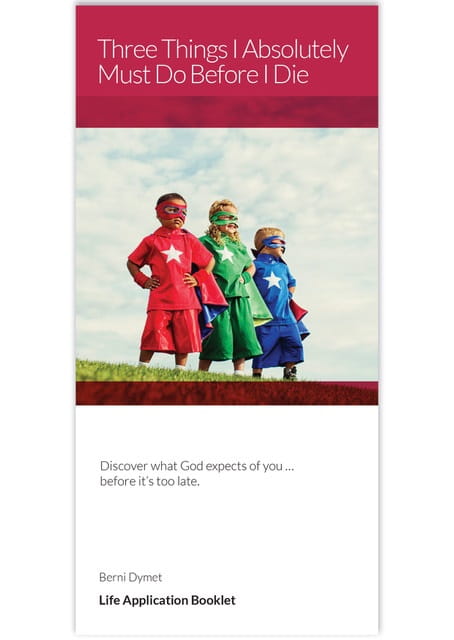 YOUR FREE BOOKLET – THREE THINGS I ABSOLUTELY MUST DO BEFORE I DIE
Here's a vital question for you to consider: If you died tonight, would you be ready for eternity? Now, many people know that it's all about having a simple faith in Jesus Christ. Nothing more, nothing less. But … do you have the sort of faith that Jesus talked about? To help you answer that question for sure, that's what our latest Life Application Booklet is all about: Three Things I Absolutely Must Do Before I Die. We would absolutely love to send you your very own FREE copy to help you make sure that you have the right answer, to the most important question of all.