A Father's Love
by Berni Dymet
Mark 15:13 No one has greater love than this, to lay down one's life for one's friends.
I don't know what sort of parents you had - in particular what sort of a dad you had. But I was talking to someone recently who was rejected and abused as a child.
And she was struggling so incredibly to believe in God her Father. She had nothing to understand Him through.
Her own father had abused her as a child. How could she ever come to grips with God…..the Father?
She's not alone. How do you come to grips with God?
A couple of thousand years ago, the apostle Paul put it this way….
God proved His love for us - because while we were still a long way off, busy rejecting Him, and doing it our own way - He sent Jesus His Son to die for us.
Jesus Himself said this - no greater love has anyone than to lay down his life for his friends. We live in a world of spin - I mean, talk is cheap. So many people are searching for the real thing. They want proof!
On that cross God whispered - I love you.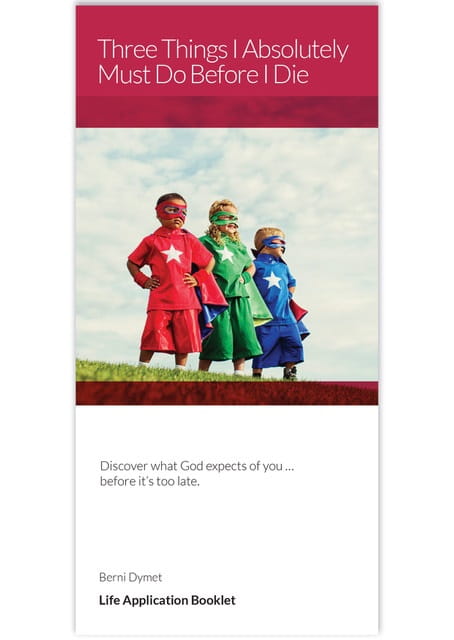 YOUR FREE BOOKLET – THREE THINGS I ABSOLUTELY MUST DO BEFORE I DIE
Here's a vital question for you to consider: If you died tonight, would you be ready for eternity? Now, many people know that it's all about having a simple faith in Jesus Christ. Nothing more, nothing less. But … do you have the sort of faith that Jesus talked about? To help you answer that question for sure, that's what our latest Life Application Booklet is all about: Three Things I Absolutely Must Do Before I Die. We would absolutely love to send you your very own FREE copy to help you make sure that you have the right answer, to the most important question of all.