Black Diamond
by Berni Dymet
Matt. 7:7-8 Ask, and it will be given you; search, and you will find; knock, and the door will be opened for you. For everyone who asks receives, and everyone who searches finds, and for everyone who knocks, the door will be opened.
I watched a movie recently called Black Diamond. If you ever have the opportunity to see it - do.  It's brilliant.
It graphically depicts one of the many wars and conflicts on the continent of Africa. This one in Sierra Leone.  The brutal exploitation of the poor and impoverished. Did you know that there are almost 200,000 child soldiers in Africa. Two hundred thousand!
A friend of mine from Liberia spent time on the run as a young teenager - from being conscripted into a rebel army. He lived in a car for a year.
When I watched this movie - my heart ached. Ached for all the people not just in Africa, but around the world that are exploited.
You feel so helpless. But you know, there's one thing that I can do. Prayer changes things. I don't mean that in some lame, useless way. And then every now and then God opens a door for us to make a difference.  When we pray and walk through that door, Jesus does amazing things.
Will you join me?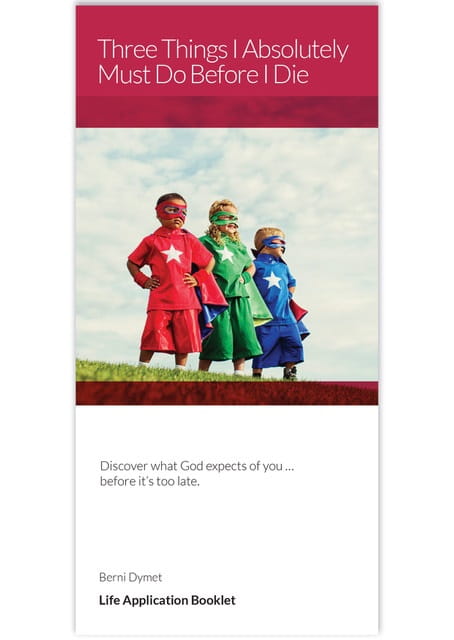 YOUR FREE BOOKLET – THREE THINGS I ABSOLUTELY MUST DO BEFORE I DIE
Here's a vital question for you to consider: If you died tonight, would you be ready for eternity? Now, many people know that it's all about having a simple faith in Jesus Christ. Nothing more, nothing less. But … do you have the sort of faith that Jesus talked about? To help you answer that question for sure, that's what our latest Life Application Booklet is all about: Three Things I Absolutely Must Do Before I Die. We would absolutely love to send you your very own FREE copy to help you make sure that you have the right answer, to the most important question of all.