Dog Tired
by Berni Dymet
Matt. 11:28 "Come to me, all you that are weary and are carrying heavy burdens, and I will give you rest."
We live in a world where there are so many people who are working themselves into the ground. People seem so busy….and exhausted.
Overwork? Hmm - I'm a reforming workaholic from way back. I don't know there seem to be so many things to do. E-mails and meetings and plans and to-do lists....
I have enough on my to-do list to keep me going 24 by 7. And I'm not alone.
But there comes a time when we have to say enough is enough.
I'm a very early starter. Always have been 5 am usually. But I've decided to draw the line. I turn my mobile off in the afternoon when my wife and daughter get home. I don't check my e-mails at night anymore….and sometimes people just have to wait for their e-mail responses.
Jesus said come to me all you who are carrying heavy burdens and I will give you rest.
That's a great invitation. But we have to decide to respond. It's up to us to make a decision to draw the line and say, enough is enough.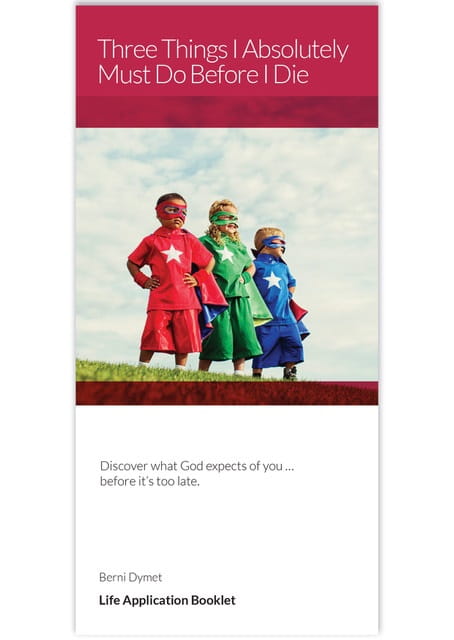 YOUR FREE BOOKLET – THREE THINGS I ABSOLUTELY MUST DO BEFORE I DIE
Here's a vital question for you to consider: If you died tonight, would you be ready for eternity? Now, many people know that it's all about having a simple faith in Jesus Christ. Nothing more, nothing less. But … do you have the sort of faith that Jesus talked about? To help you answer that question for sure, that's what our latest Life Application Booklet is all about: Three Things I Absolutely Must Do Before I Die. We would absolutely love to send you your very own FREE copy to help you make sure that you have the right answer, to the most important question of all.