Dreams and Schemes
by Berni Dymet
Luke 12:29-31 And do not keep striving for what you are to eat and what you are to drink, and do not keep worrying. Instead, strive for his kingdom, and these things will be given to you as well.
We all have different priorities in life. You do. I do. And if God is God - well, He must too.
Interesting. Some people care about some things that as it turns out, aren't that important to God. Let me give you a "for instance". There are people - Christians - who'll tell you, well, you shouldn't eat this type of food or that type of food. Or you have to follow this rule or that rule. Or don't drink this or that.
You've heard it, I've heard it. But Jesus said - Look, it's not the stuff you put into your body that defiles you, but the stuff that comes out of you.
What does that mean? Well, Jesus explains. What you eat and drink goes into your stomach and out through the sewer. But what you say and do that comes out of your heart.
And actually, it's what's going on in our hearts that matters so much more to Him. Because the dreams and schemes of our hearts - well, that's who we are. That's where we live.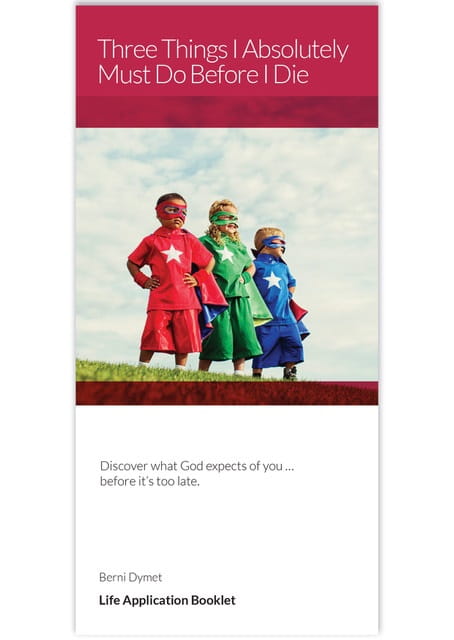 YOUR FREE BOOKLET – THREE THINGS I ABSOLUTELY MUST DO BEFORE I DIE
Here's a vital question for you to consider: If you died tonight, would you be ready for eternity? Now, many people know that it's all about having a simple faith in Jesus Christ. Nothing more, nothing less. But … do you have the sort of faith that Jesus talked about? To help you answer that question for sure, that's what our latest Life Application Booklet is all about: Three Things I Absolutely Must Do Before I Die. We would absolutely love to send you your very own FREE copy to help you make sure that you have the right answer, to the most important question of all.