Happy, Sad
by Berni Dymet
2 Cor. 4:8-10 We are afflicted in every way, but not crushed; perplexed, but not driven to despair; persecuted, but not forsaken; struck down, but not destroyed; always carrying in the body the death of Jesus, so that the life of Jesus may also be made visible in our bodies.
I was with a group of Christian leaders recently - at our annual conference - we've become like a family. 
And as we serve the Lord, each in our particular corner of His vineyard - it's so wonderful to come together and share stories and fellowship. It's food for the soul.
What struck me this year was that in the lives of these men and women, there were tough stories. Sad stories. I sat with quite a number and heard of their struggles, their challenges, their hurts, their losses.
God's doing so much in the lives of so many through these godly men and women, and yet there's this humble, broken reality. It seems like such a contradiction.
But as I thought and prayed some more - what I came to see, was the body of Christ. That's what God calls His people - His body. Beaten. Bloodied. Apparently defeated. And yet strangely victorious.
Such a gritty reality in this Jesus. Such a gritty reality in His people.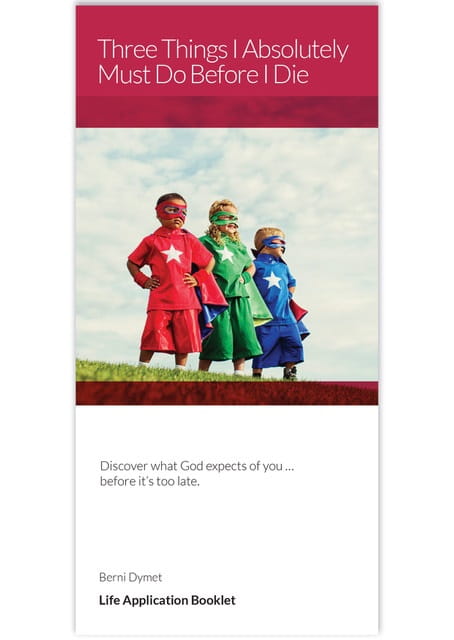 YOUR FREE BOOKLET – THREE THINGS I ABSOLUTELY MUST DO BEFORE I DIE
Here's a vital question for you to consider: If you died tonight, would you be ready for eternity? Now, many people know that it's all about having a simple faith in Jesus Christ. Nothing more, nothing less. But … do you have the sort of faith that Jesus talked about? To help you answer that question for sure, that's what our latest Life Application Booklet is all about: Three Things I Absolutely Must Do Before I Die. We would absolutely love to send you your very own FREE copy to help you make sure that you have the right answer, to the most important question of all.