Low Self Esteem
by Berni Dymet
Gal. 2:20 and it is no longer I who live, but it is Christ who lives in me. And the life I now live in the flesh I live by faith in the Son of God, who loved me and gave himself for me.
Last night, I spent a few hours with some students at a Bible College where I teach. We had a tutorial. Their assignment was to look at someone's life, someone who they knew who seemed to be having real problems - and just come and talk about those problems in the tutorial.
You know something - as each student spoke about a friend or a family member - it just came back to the same thing again and again.
Each of these people had a sense of worthlessness. Each one! I was blown away. You see we live in a society where the advertising industry conditions us to believe that we - you and I are at the centre of the universe! It's all about me!
Well - that's working incredibly well then, isn't it?!
You know how we know what we're really worth? You look at Jesus hanging on that cross. He died - for you and me. What does God think we're worth?
The life of His only Son. Jesus.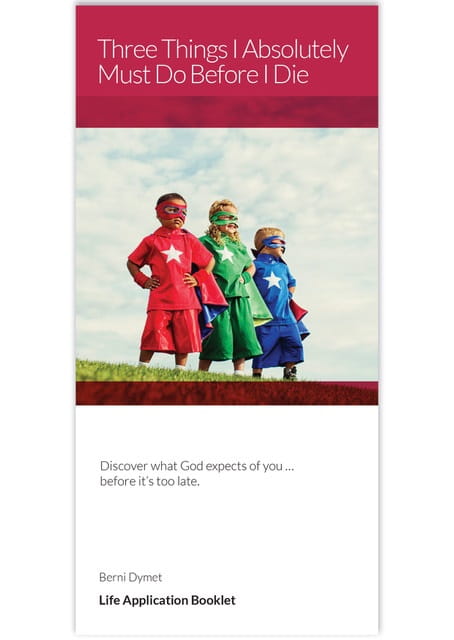 YOUR FREE BOOKLET – THREE THINGS I ABSOLUTELY MUST DO BEFORE I DIE
Here's a vital question for you to consider: If you died tonight, would you be ready for eternity? Now, many people know that it's all about having a simple faith in Jesus Christ. Nothing more, nothing less. But … do you have the sort of faith that Jesus talked about? To help you answer that question for sure, that's what our latest Life Application Booklet is all about: Three Things I Absolutely Must Do Before I Die. We would absolutely love to send you your very own FREE copy to help you make sure that you have the right answer, to the most important question of all.