Madmen
by Berni Dymet
Luke 12:15 And he said to them, 'Take care! Be on your guard against all kinds of greed; for one's life does not consist in the abundance of possessions.'
We men are funny animals. We have this thing hardwired in our DNA - we want to be the providers and protectors of our families. And that's a good thing.  It's great actually.
But then in the madness we all rush around in - like madmen - we become so engrossed in the "providing thing". It gets a life of its own. Its like -well, we become madmen. It's like we snap inside and all of a sudden working is all that matters. Making it is all that matters. So many men are on that treadmill.
And there are so many of us who end up missing out on the wonder of bringing up our children and the intimacy of quiet times with our wives…and with God. We end up trading the diamonds we've been given, for stones. Doesn't that strike you as completely nuts?
Maybe, maybe this is striking a little close to home. So let me give you this gentle word of encouragement:
What's the matter with you? Are you nuts?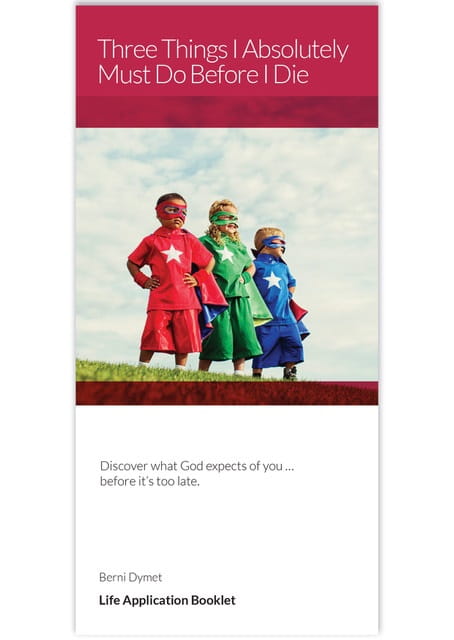 YOUR FREE BOOKLET – THREE THINGS I ABSOLUTELY MUST DO BEFORE I DIE
Here's a vital question for you to consider: If you died tonight, would you be ready for eternity? Now, many people know that it's all about having a simple faith in Jesus Christ. Nothing more, nothing less. But … do you have the sort of faith that Jesus talked about? To help you answer that question for sure, that's what our latest Life Application Booklet is all about: Three Things I Absolutely Must Do Before I Die. We would absolutely love to send you your very own FREE copy to help you make sure that you have the right answer, to the most important question of all.