Our Inheritance
by Berni Dymet
Rom. 8:15-17 For you did not receive a spirit of slavery to fall back into fear, but you have received a spirit of adoption. When we cry, "Abba! Father!" it is that very Spirit bearing witness with our spirit that we are children of God, and if children, then heirs, heirs of God and joint heirs with Christ—if, in fact, we suffer with him so that we may also be glorified with him.
One of the things I love about God - is that He wants me to know; He wants you to know - that He's our Dad. And not just to know it in our heads, but to know it in our hearts.
When we put our faith in Jesus - God becomes … our Dad. I love it: God the Dad.
And as fathers do, He's given us an inheritance, an inheritance because as His children, we're His heirs. His beneficiaries. In fact, as the Apostle Paul writes in his letter to the Romans - we're co-heirs with Christ.
Now just stop and let that sink in for a moment: Co-heirs with Christ. Joint heirs - when we put our trust in Jesus. We get what Jesus gets.
It is so easy for us to become all bound up in the here and now. But my hunch is that it doesn't matter how much of God's blessing we experience here on this earth … it'll be nothing, nothing compared to that eternal inheritance. Nothing …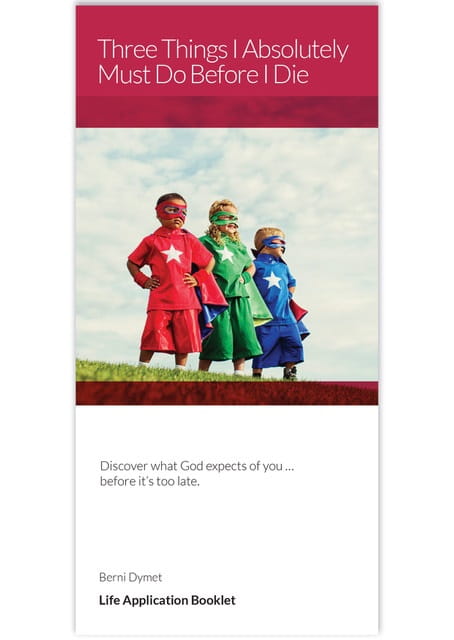 YOUR FREE BOOKLET – THREE THINGS I ABSOLUTELY MUST DO BEFORE I DIE
Here's a vital question for you to consider: If you died tonight, would you be ready for eternity? Now, many people know that it's all about having a simple faith in Jesus Christ. Nothing more, nothing less. But … do you have the sort of faith that Jesus talked about? To help you answer that question for sure, that's what our latest Life Application Booklet is all about: Three Things I Absolutely Must Do Before I Die. We would absolutely love to send you your very own FREE copy to help you make sure that you have the right answer, to the most important question of all.