Sarah
by Berni Dymet
Psalm 139:13-14 For it was you who formed my inward parts; you knit me together in my mother's womb. I praise you, for I am fearfully and wonderfully made.
The young woman who runs the coffee shop near our office - her name's Sarah. She's a real character; loud, but lovable. A gold stud in her nose.... You know the sort.
The other day, she's on her mobile phone and a five year old - he's making such a racquet in the coffee shop.
Very calmly, she says to the person on the other end of the phone "Excuse me", and then she drops the phone to her side and yells at the top of her lungs "QUIET". Dead silence.
Now if I did that - everyone would get offended, right? But Sarah's just one of those people that - well, she can get away with it.
I love that about God. He's made each one of us - so different.  So unique. And yet so often, we let those differences upset us. We let them rub us the wrong way. Somehow, we want everyone to be…well, like us.
But then the world would be such a boring place…without Sarah.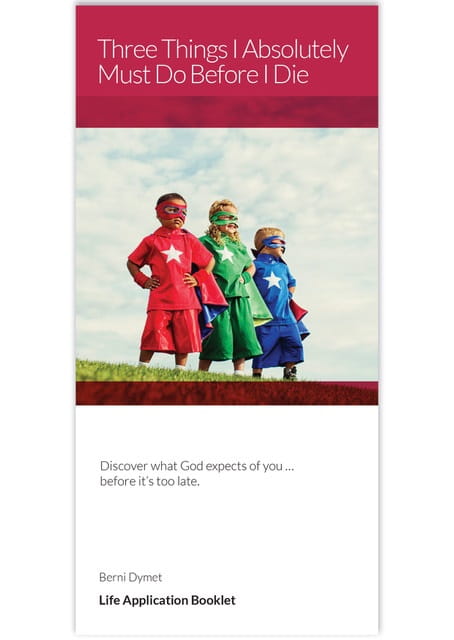 YOUR FREE BOOKLET – THREE THINGS I ABSOLUTELY MUST DO BEFORE I DIE
Here's a vital question for you to consider: If you died tonight, would you be ready for eternity? Now, many people know that it's all about having a simple faith in Jesus Christ. Nothing more, nothing less. But … do you have the sort of faith that Jesus talked about? To help you answer that question for sure, that's what our latest Life Application Booklet is all about: Three Things I Absolutely Must Do Before I Die. We would absolutely love to send you your very own FREE copy to help you make sure that you have the right answer, to the most important question of all.