Taking it Easy
by Berni Dymet
Luke 12:35-40 "Be dressed for action and have your lamps lit; be like those who are waiting for their master to return from the wedding banquet, so that they may open the door for him as soon as he comes and knocks. Blessed are those slaves whom the master finds alert when he comes; truly I tell you, he will fasten his belt and have them sit down to eat, and he will come and serve them. If he comes during the middle of the night, or near dawn, and finds them so, blessed are those slaves. "But know this: if the owner of the house had known at what hour the thief was coming, he would not have let his house be broken into. You also must be ready, for the Son of Man is coming at an unexpected hour."
The easiest thing for any employee to do is to slacken off when they think that no one's watching. You know, the boss isn't around - maybe he's gone on a trip this week - and so hey, let's take our foot off the pedal. No sense in killing yourself after all. Who's gunna notice?
I have to tell you - one day, one day you and I will breath our last breath on this earth or, perhaps before then, Jesus will come back the way He promised. Either way - He made it really clear - that when our time on this earth is over - unexpected though that end may be - He expects to find us working at His work. Doing the things that He's called us to do - with diligence and vigor and enthusiasm.
Over and over again He told stories - parables - about the blessing that would come upon those who were diligently about His business and the punishment that would come upon those who weren't.
Oi!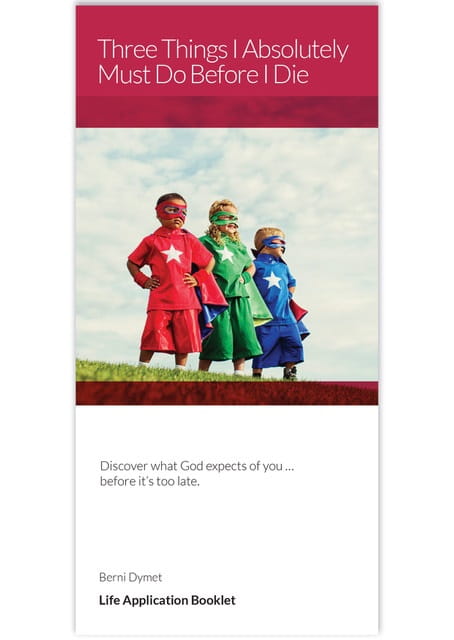 YOUR FREE BOOKLET – THREE THINGS I ABSOLUTELY MUST DO BEFORE I DIE
Here's a vital question for you to consider: If you died tonight, would you be ready for eternity? Now, many people know that it's all about having a simple faith in Jesus Christ. Nothing more, nothing less. But … do you have the sort of faith that Jesus talked about? To help you answer that question for sure, that's what our latest Life Application Booklet is all about: Three Things I Absolutely Must Do Before I Die. We would absolutely love to send you your very own FREE copy to help you make sure that you have the right answer, to the most important question of all.