The Power of Humility
by Berni Dymet
Prov. 29:23 A man's pride brings him low, but a man of lowly spirit gains honor.
We all know people who - to put it bluntly - are full of themselves. They throw their weight around and stomp over the top of people. And here's the thing - they do it under the delusion that somehow - this makes them better than everybody else. They believe this lie that everyone looks up to them and thinks, "Wow - isn't he great" or "Boy, isn't she fantastic."
But let me ask you something - when you've had to deal with someone who's proud and arrogant - full of themselves- what's been your reaction to them? Are they the ones you respect and look up to? I don't think so. They're the ones we try to avoid.
In a strange sort of a twist, the people we really respect … are the humble ones. The people who put themselves last. The one who walks into the room and instead of saying "Here I am", they look around and they say, "Ah - there you are."
They're the ones that we want to honor: The humble ones.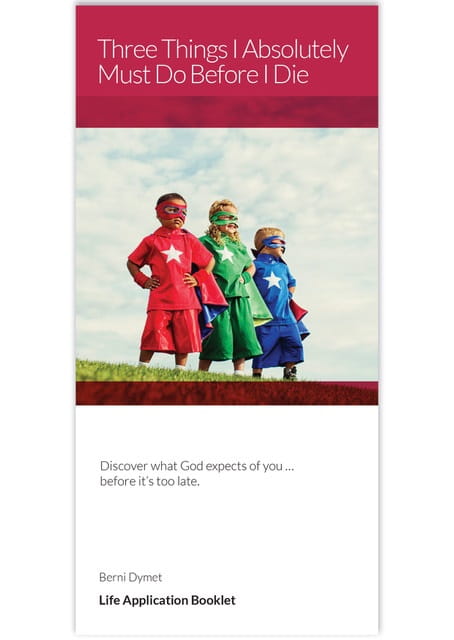 YOUR FREE BOOKLET – THREE THINGS I ABSOLUTELY MUST DO BEFORE I DIE
Here's a vital question for you to consider: If you died tonight, would you be ready for eternity? Now, many people know that it's all about having a simple faith in Jesus Christ. Nothing more, nothing less. But … do you have the sort of faith that Jesus talked about? To help you answer that question for sure, that's what our latest Life Application Booklet is all about: Three Things I Absolutely Must Do Before I Die. We would absolutely love to send you your very own FREE copy to help you make sure that you have the right answer, to the most important question of all.