The Word of God
by Berni Dymet

Heb. 1:1,2 Long ago God spoke to our ancestors in many and various ways by the prophets, but in these last days he has spoken to us by a Son, whom he appointed heir of all things, through whom he also created the worlds.
I'm not sure exactly what I expected God to be like. Really. What's God like? What does He look like? Is He an old man with a big stick? Maybe … Is He into religion and church services and stuff? Who knows …
And then, then I stumbled across this Jesus: God's Son. Absolutely not at all what I expected. This man who tells it the way it is. Calls a spade a spade. Cuts through the hypocrisy, all the religious stuff - right to the heart of the matter.

This Jesus who railed against the religious hypocrisy of His day, and tended the wounds of the outcasts: the lepers, gave sight to the blind and called the little people into the presence of God.

And then - Jesus says to His disciples - You want to know what God looks like? Look at me. I am He.

And at that point, at that point I realized that God was nothing, absolutely nothing like what I expected Him to be.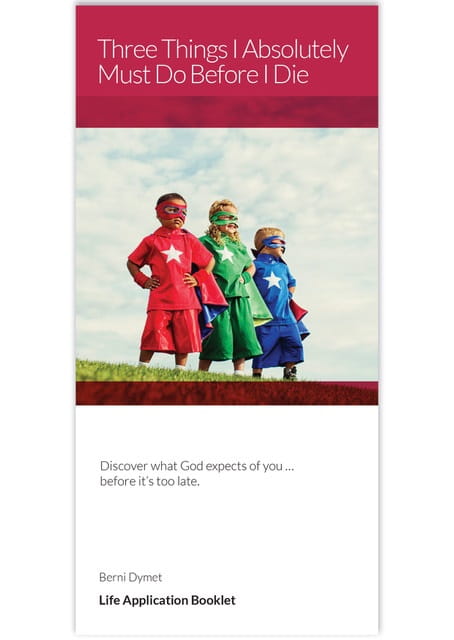 YOUR FREE BOOKLET – THREE THINGS I ABSOLUTELY MUST DO BEFORE I DIE
Here's a vital question for you to consider: If you died tonight, would you be ready for eternity? Now, many people know that it's all about having a simple faith in Jesus Christ. Nothing more, nothing less. But … do you have the sort of faith that Jesus talked about? To help you answer that question for sure, that's what our latest Life Application Booklet is all about: Three Things I Absolutely Must Do Before I Die. We would absolutely love to send you your very own FREE copy to help you make sure that you have the right answer, to the most important question of all.