Things We Take for Granted
by Berni Dymet
Matt. 25:40 'Truly I tell you, just as you did it to one of the least of these who are members of my family, you did it to me.'
I have a good friend by the name of Joseph - who lives in Cape Town South Africa. He's the head of a Radio Training School at Media Village -check them out on the web - mediavillage.info.
Anyhow, Joseph was saying to me that of the eight hundred or so million people who live in Africa, more have access to radio than to clean drinking water.
That stopped me in my tracks. It makes you realize the things we take for granted. Jesus said if you give a drink to someone who's thirsty, it's as though you're giving me a drink.
So many people these days have investment portfolios. But there's a concept I love which is called a "giving portfolio". Can I encourage you to establish one - and whatever you do - include the poor and the needy in that portfolio? I'm not talking loose change. I'm talking serious giving.
There are so many people on this planet who are hurting. I'm talking - giving that costs us something. Giving till it hurts and then some.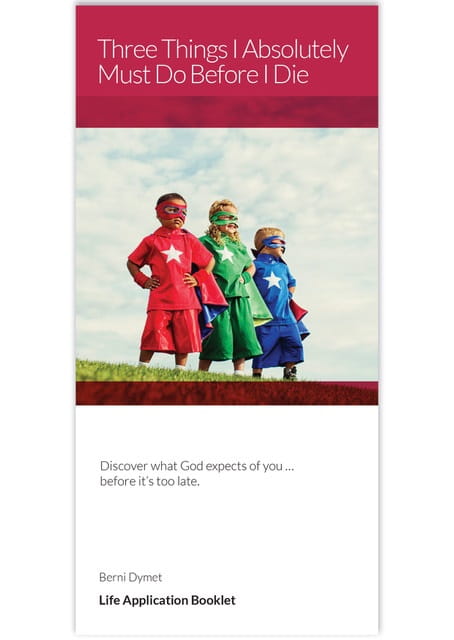 YOUR FREE BOOKLET – THREE THINGS I ABSOLUTELY MUST DO BEFORE I DIE
Here's a vital question for you to consider: If you died tonight, would you be ready for eternity? Now, many people know that it's all about having a simple faith in Jesus Christ. Nothing more, nothing less. But … do you have the sort of faith that Jesus talked about? To help you answer that question for sure, that's what our latest Life Application Booklet is all about: Three Things I Absolutely Must Do Before I Die. We would absolutely love to send you your very own FREE copy to help you make sure that you have the right answer, to the most important question of all.