'To Do' List 
by Berni Dymet
Romans 12:2 Do not be conformed to this world, but be transformed by the renewing of your minds, so that you may discern what is the will of God—what is good and acceptable and perfect.
Maybe it's just me, but I've always had more things on my "to-do" list than I have time available actually to do them all. 
Now I've tried every which way I know how to manage them.
A diary, a handwritten page divided up into sections for different categories of tasks. And these days, a sophisticated task management application that synchronises between my laptop and mobile phone.
But I still have more than I can do.
And so, strange as it may sound, the way I figure this all out is that early each morning, I sit and pray. I say "God - which ones do you want me to do today". 
It's kind of weird.  But actually, it works. Because what happens is that I end up doing things according to His priorities and not mine. And that means that the things I'm doing today, are actually fitting in with His plan.
Pretty obvious really. So why did it take me so long to figure it out?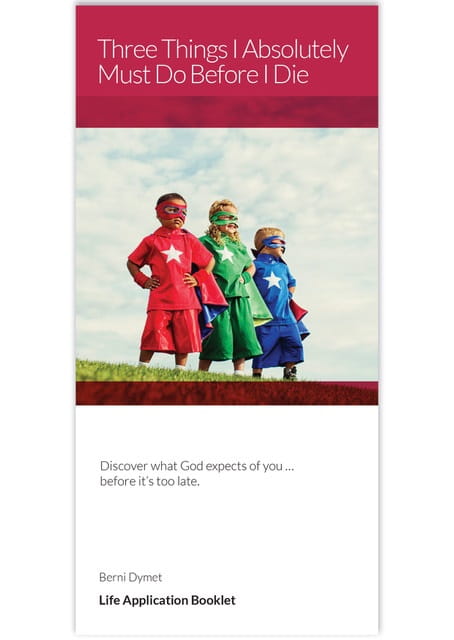 YOUR FREE BOOKLET – THREE THINGS I ABSOLUTELY MUST DO BEFORE I DIE
Here's a vital question for you to consider: If you died tonight, would you be ready for eternity? Now, many people know that it's all about having a simple faith in Jesus Christ. Nothing more, nothing less. But … do you have the sort of faith that Jesus talked about? To help you answer that question for sure, that's what our latest Life Application Booklet is all about: Three Things I Absolutely Must Do Before I Die. We would absolutely love to send you your very own FREE copy to help you make sure that you have the right answer, to the most important question of all.