The Person of the Holy Spirit
In His Presence: John 14:16-29
Our God is a triune Being, three Persons in One. The Father is not the Son. The Son is not the Spirit. They are distinct from one another in Their personhood, but They are one in their essence. They are like pretzels, which have three holes but are all tied together by the same dough. The Three are distinct in their functions, but They are essentially one God.
Watch Online Videos of Dr. Tony Evans and The Urban Alternative at LightSource.com
and
Listen to Dr. Tony Evans Online Broadcasts at OnePlace.com.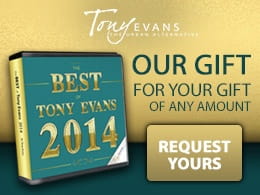 The Best of Tony Evans 2014
The Best of Tony Evans 2014 is a collection of some of Dr. Evans most powerful messages of the year.
Request your copy
of
The Best of Tony Evans 2014
CD Series for your gift of any amount.