A Spiritual Blockage
by Berni Dymet
John 4:14 but those who drink of the water that I will give them will never be thirsty. The water that I will give will become in them a spring of water gushing up to eternal life."
The actor Alan Alda, of course, became famous as the character Hawkeye Pierce in the long-running TV series MASH. He's over 70 years old now.
In an interview, he shared how he was traveling in South America and had the most incredible pain in his stomach. They rushed him to a doctor who found a blockage in his intestine - and unless the doctor operated immediately, he was going to die.
Blockages in our bodies are almost always deadly. In our airways. In our intestines or bowels. In our veins and arteries.
And spiritual blockages are just the same. Deadly.
I know sin isn't exactly a trendy word. But it's God's word. A small three-letter word for the blockage that happens when we turn our backs on Him.
A blockage that brings death. For eternity.
And then God, God comes along with another Word. Five letters this time. It's the word of life. The word that takes away the blockage. The Word? Jesus.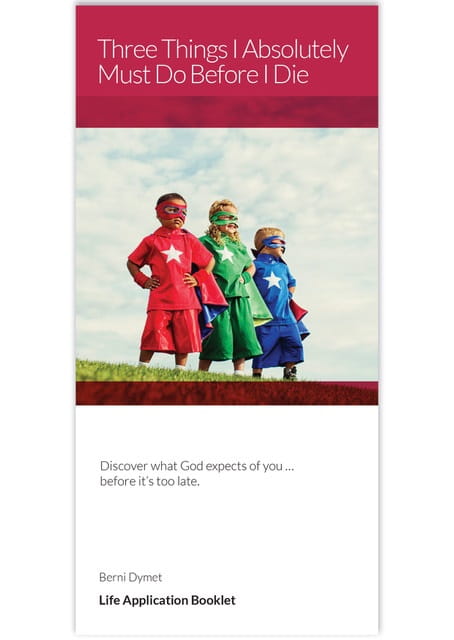 YOUR FREE BOOKLET – THREE THINGS I ABSOLUTELY MUST DO BEFORE I DIE
Here's a vital question for you to consider: If you died tonight, would you be ready for eternity? Now, many people know that it's all about having a simple faith in Jesus Christ. Nothing more, nothing less. But … do you have the sort of faith that Jesus talked about? To help you answer that question for sure, that's what our latest Life Application Booklet is all about: Three Things I Absolutely Must Do Before I Die. We would absolutely love to send you your very own FREE copy to help you make sure that you have the right answer, to the most important question of all.