I Am the Greatest
by Berni Dymet
Matt. 11:11 Truly I tell you, among those born of women no one has arisen greater than John the Baptist; yet the least in the kingdom of heaven is greater than he.
You know, we tend to position people in the scheme of things by - well their position or their status or how they look or even how nice they are to us. I mean, if we were alive in Jesus' day - this guy, John the Baptist - how would we have summed Him up.
Not part of the religious establishment. He's a bit strange really; He ate locusts and honey, preached fire and brimstone. And yet he was Jesus' cousin and Jesus clearly thought highly of him. Maybe we should put him on the top of the heap….
Have a listen though to Jesus' upside down view of the world - He says, "Among those born of women no one is greater than John the Baptist, yet the least in the kingdom of God is greater than he.
So the next time we feel as though we're a bit of a nobody - no recognition or fame or anything else - my prayer is that Jesus' words will ring in our hearts. We nobodies are greater than even the greatest.
It's a Jesus thing.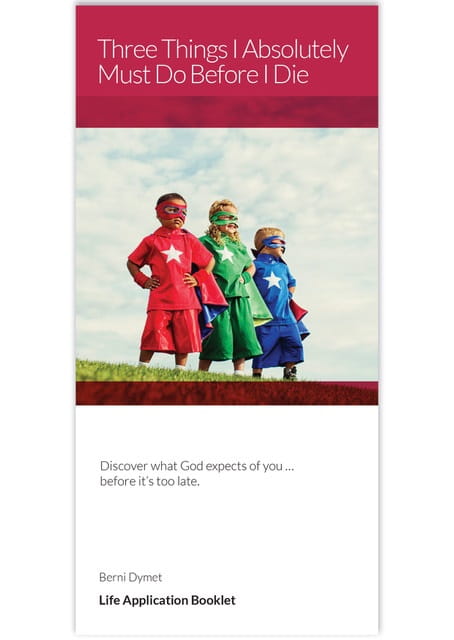 YOUR FREE BOOKLET – THREE THINGS I ABSOLUTELY MUST DO BEFORE I DIE
Here's a vital question for you to consider: If you died tonight, would you be ready for eternity? Now, many people know that it's all about having a simple faith in Jesus Christ. Nothing more, nothing less. But … do you have the sort of faith that Jesus talked about? To help you answer that question for sure, that's what our latest Life Application Booklet is all about: Three Things I Absolutely Must Do Before I Die. We would absolutely love to send you your very own FREE copy to help you make sure that you have the right answer, to the most important question of all.