Love AND Justice
by Berni Dymet
Hos. 12:6 But as for you, return to your God, hold fast to love and justice, and wait continually for your God.
Something I used to wonder about is - why did God have to send Jesus to die for me on the cross? If He's God and I've done something wrong - and I say "sorry" - why doesn't He just forgive me?
I think that's a fair question.
And the answer lies in the fact that God is both loving and just. Because He loves us, He wants us to be close to Him for all eternity -but His justice demands that a price be paid for our rebellion - our SIN.
I mean, look at any decent justice system - there has to be a punishment for the crime, otherwise it wouldn't be justice.
But God's love is so great - that He doesn't want us to suffer that punishment. That's why He sent us Jesus. And there at the cross - the dilemma between God's love and His justice in dealing with our rebellion, that dilemma is resolved.
We have a name for that. We call it … grace.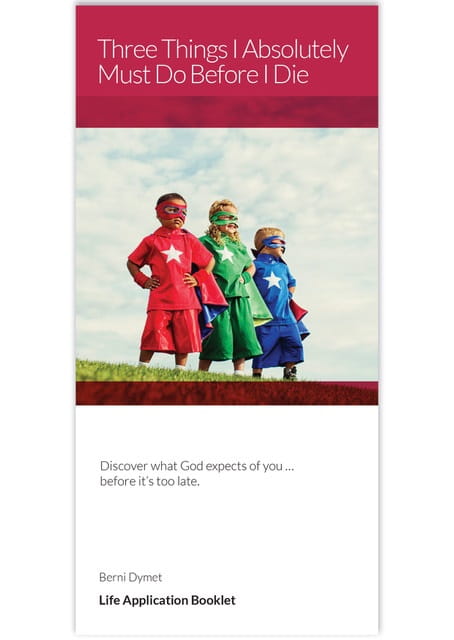 YOUR FREE BOOKLET – THREE THINGS I ABSOLUTELY MUST DO BEFORE I DIE
Here's a vital question for you to consider: If you died tonight, would you be ready for eternity? Now, many people know that it's all about having a simple faith in Jesus Christ. Nothing more, nothing less. But … do you have the sort of faith that Jesus talked about? To help you answer that question for sure, that's what our latest Life Application Booklet is all about: Three Things I Absolutely Must Do Before I Die. We would absolutely love to send you your very own FREE copy to help you make sure that you have the right answer, to the most important question of all.