Once Upon a Time
by Berni Dymet
John 3:16 For God so loved the world that he gave his only Son, so that everyone who believes in him may not perish but may have eternal life.
The other morning, I received this e-mail that really tickled my fancy.
It was kind of like this folksy, little postcard - with an old lady and a little girl sitting on her lap. And the little girl says, "Granny, do all fairytales begin with 'Once Upon a Time?'"
"No darling" says the grandmother. "There's a whole series of them that begin 'If elected, I promise.' "
I guess we can all relate to that. Politicians soon discover that there's a big difference between the euphoria of the election campaign and the realities of delivering once they're elected. Delivering is hard work. There are a whole bunch of things and people and situations that conspire against us delivering.
You and I - we both know what it is to over promise and under deliver.
And maybe - at least for me - that's why it was so hard to comprehend that God delivered me His Son to give me eternal life.
I mean to look at this carpenter from Nazareth - well He promised so little, and yet He delivered so much.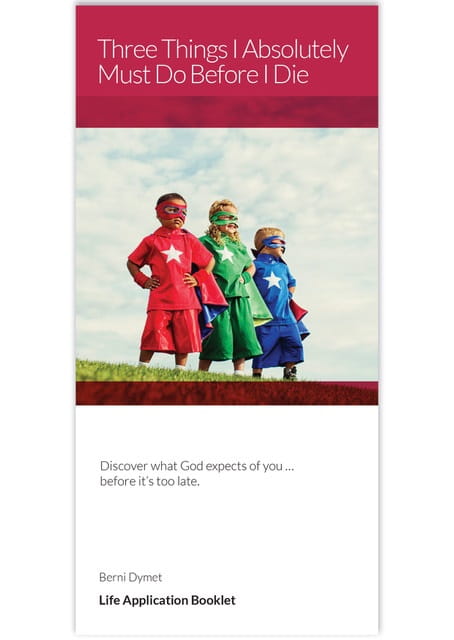 YOUR FREE BOOKLET – THREE THINGS I ABSOLUTELY MUST DO BEFORE I DIE
Here's a vital question for you to consider: If you died tonight, would you be ready for eternity? Now, many people know that it's all about having a simple faith in Jesus Christ. Nothing more, nothing less. But … do you have the sort of faith that Jesus talked about? To help you answer that question for sure, that's what our latest Life Application Booklet is all about: Three Things I Absolutely Must Do Before I Die. We would absolutely love to send you your very own FREE copy to help you make sure that you have the right answer, to the most important question of all.