Relevance Please
by Berni Dymet
Mark 1:40-41 A leper came to him begging him, and kneeling he said to him, "If you choose, you can make me clean." Moved with pity, Jesus stretched out his hand and touched him, and said to him, "I do choose. Be made clean!"
I don't know how it is for you, but I get bombarded with so many marketing messages and e-mails and phone calls and entertainment options - I have to be pretty brutal at filtering them- otherwise I'd just drown.
And the issue is - relevance. Whether they matter to me. If they do, I'll take a look. But if they don't, well, frankly I have better things to do with my limited time.
Jesus just never seemed relevant.
Until I read the story of the leper who came to Him and said, "Lord if you're willing, you can make me clean." Moved with compassion Jesus reached out and touched Him, and He said, "I am willing - be made clean". And immediately the man was healed.
Didn't matter which way I cut it - I knew. I was that leper. And my sin was a stench in the nostrils of God - just like the puss filled sores of that leper.
But in that story - I heard Him say something to me ... I am willing.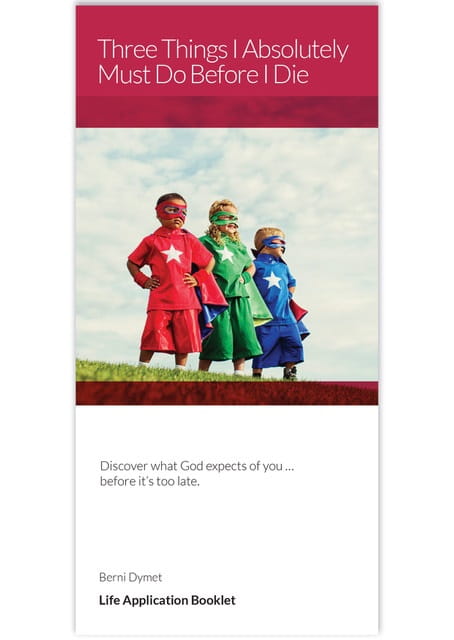 YOUR FREE BOOKLET – THREE THINGS I ABSOLUTELY MUST DO BEFORE I DIE
Here's a vital question for you to consider: If you died tonight, would you be ready for eternity? Now, many people know that it's all about having a simple faith in Jesus Christ. Nothing more, nothing less. But … do you have the sort of faith that Jesus talked about? To help you answer that question for sure, that's what our latest Life Application Booklet is all about: Three Things I Absolutely Must Do Before I Die. We would absolutely love to send you your very own FREE copy to help you make sure that you have the right answer, to the most important question of all.