From Praying the Names of God Week Twenty-Five, Day Two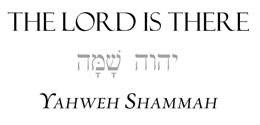 The Name
Strictly speaking, Yahweh Shammah is a name for a city rather than a title of God. But it is so closely associated with God's presence and power that it has often been equated with a name for God, at least in popular parlance. The name in the New Testament that is most closely associated with it is Immanuel, "God with us," a name that was given to Jesus. Yahweh Shammah (yah-WEH SHAM-mah), "The LORD is there," reminds us that we were created both to enjoy and to manifest God's presence..
Key Scripture
And the name of the city from that time on will be: THE LORD IS THERE. (Ezekiel 48:35)
***
Tuesday
PRAYING THE NAME
When you pass through the waters,
I will be with you;
and when you pass through the rivers,
they will not sweep over you.
When you walk through the fire,
you will not be burned;
the flames will not set you ablaze. (Isaiah 43:2)
Reflect On: Isaiah 43:2
Praise God: That he is always with us.
Offer Thanks: For God's presence in the midst of trouble.
Confess: Any tendency to conclude that you are alone in your struggles.
Ask God: To protect you and your loved ones.
Have you ever sat across the table from someone who shouldn't even be walking around on the planet? A year ago I met a woman named Genelle Guzman-McMillan. Her story mesmerized me because she survived troubles the rest of us have only encountered in our nightmares. She is the last survivor of the September 11 attack on the World Trade Center.
Genelle is a soft-spoken woman who remembers what happened in terrifying detail. Employed by the Port Authority of New York, she arrived a little after 8 a.m. on September 11 and rode the elevator to her job on the sixty-fourth floor of the north tower. Thinking it was safe to stay, Genelle didn't attempt to leave the building until after the second plane hit. Racing down fifty-one flights of stairs in high heels, she stopped for a moment on the thirteenth floor. As she bent down to remove her shoes, the north tower collapsed on top of her.
Like millions of others, I watched the horrifying scene via live TV, convinced that no one had survived the collapse of the second tower.
Here's what happened to Genelle when all hell broke loose: One hundred ten floors were coming down around us. I knew I was being buried alive. The noise was deafening. . . . When I woke again I told myself I had to do something. But what could I do? "God, you've got to help me!" I prayed. "You've got to show me a sign, show me a miracle, give me a second chance. Please save my life!" My eyes were so caked with grime that the tears couldn't come, but I felt it in my heart. I was talking to God as though he were right there. I told him I was ready to live my life the right way. "Lord, just give me a second chance, and I promise I will do your will"...
The next day I heard a beep-beep sound like a truck backing up. I called for help, but there was no response... Finally someone hollered back: "Hello, is somebody there?" "Yes, help me! My name is Genelle, and I'm on the thirteenth floor," I cried, not realizing how ludicrous the information about my location must have sounded, coming from a pile of rubble...
I could see a bit of daylight coming through a crack, so I stuck my hand through it. . . . I stretched my hand out as far as I could, and this time someone grabbed it. "Genelle, I've got you! You're going to be all right. My name is Paul. I won't let go of your hand until they get you out."
Genelle had prayed to the God she had ignored for most of her life, and he had been there for her. After twenty-seven hours she was pulled out of the rubble and then spent five weeks in the hospital recuperating. Afterward, she tried locating Paul, the man who had held onto her hand until she was rescued. Later, when she asked about him, her rescuers assured her: "There's no one named Paul on our team . . . nobody was holding your hand when we were removing the rubble."
Genelle had felt completely calm the moment Paul grabbed her hand. She had believed his repeated assurances that help was on the way and that she would be all right. Despite the fact that her story has been told in Jim Cymbala's book Breakthrough Prayer, on Oprah and CNN, and in Guideposts and Time magazines, no one named Paul has ever stepped forward to take credit for rescuing her. But Genelle knows that Paul was there. He was like an angel of God's presence, assuring her that all would be well.
Hour after hour Genelle had cried out for help. It took more than a day for the rescue crew to locate her but only an instant for God to pinpoint her location. When a psychiatrist, probing for symptoms of posttraumatic stress, interviewed her in the hospital, Genelle told him that God above was her psychiatrist. "After all, God was there when I needed him. He had made sure I was found. He had comforted me and given me a new life." Like few others, Genelle knows the saving power of the One who revealed himself to her as Yahweh Shammah, the Lord who is there.
For more from Ann Spangler, please visit her blogspot on Christianity.com. And be sure to check out Ann's newest books on AnnSpangler.com. To hear more from Ann Spangler, sign up today at annspangler.substack.com.
---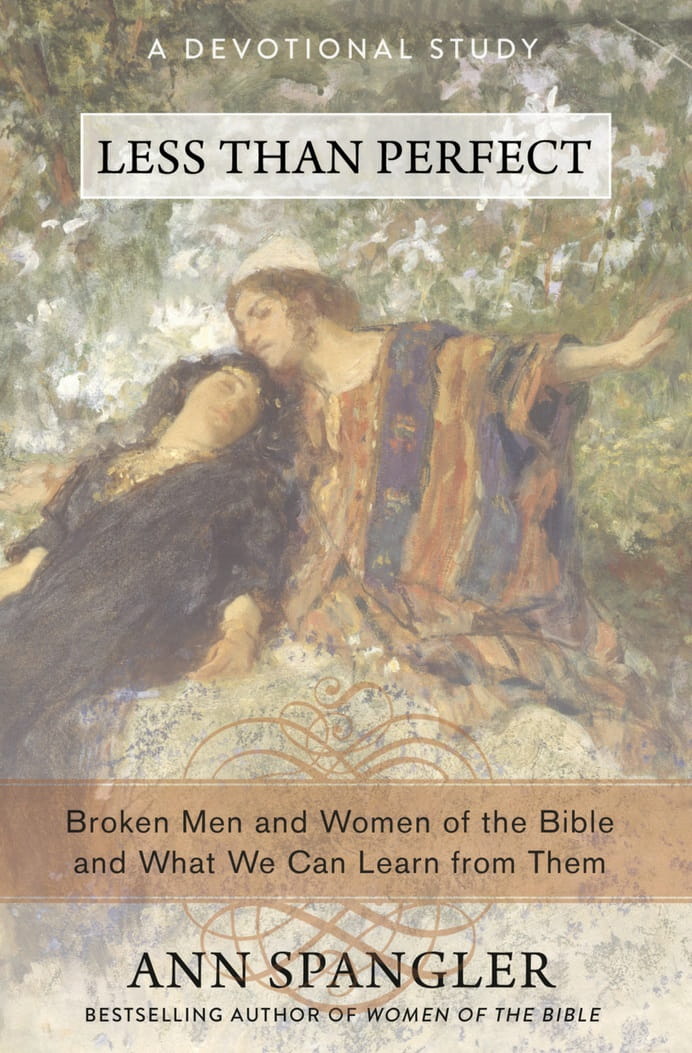 Meet your spiritual ancestors as they really were: Less Than Perfect: Broken Men and Women of the Bible and What We Can Learn from Them.