From Praying the Names of God Week Twenty, Day One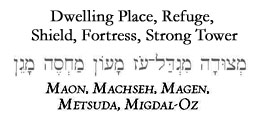 The Names
These descriptive names for God often appear in clusters in the psalms as well as in other portions of the Scripture. When you pray to God your Refuge, Shield, Fortress, Dwelling Place, and Strong Tower, you are invoking the God who has promised to watch over you and keep you safe.
Key Scripture
He who dwells in the shelter of the Most High
will rest in the shadow of the Almighty.
I will say of the LORD, "He is my refuge and my fortress,
my God in whom I trust." (Psalms 91)
***
Monday
GOD REVEALS HIS NAME
He who dwells in the shelter of the Most High
will rest in the shadow of the Almighty.
I will say of the LORD, "He is my refuge and my
fortress,
my God, in whom I trust."
Surely he will save you from the fowler's snare
and from the deadly pestilence.
He will cover you with his feathers,
and under his wings you will find refuge;
his faithfulness will be your shield and rampart.
You will not fear the terror of night,
nor the arrow that flies by day,
nor the pestilence that stalks in the darkness,
nor the plague that destroys at midday.
A thousand may fall at your side,
ten thousand at your right hand,
but it will not come near you.
You will only observe with your eyes
and see the punishment of the wicked.
If you make the Most High your dwelling—
even the LORD, who is my refuge—
then no harm will befall you,
no disaster will come near your tent.
For he will command his angels concerning you
to guard you in all your ways;
they will lift you up in their hands,
so that you will not strike your foot against a stone.
You will tread upon the lion and the cobra;
you will trample the great lion and the serpent.
"Because he loves me," says the LORD, "I will rescue him;
I will protect him, for he acknowledges my name.
He will call upon me, and I will answer him;
I will be with him in trouble,
I will deliver him and honor him.
With long life will I satisfy him
and show him my salvation. (Psalm 91:1-16)
Lord, teach me to dwell in your shelter and to rest in your shadow. Be with me in trouble and watch over me in danger. Satisfy me with a long life, and I will sing your praises, my refuge and my fortress, my God, in whom I trust. Amen.
Understanding the Names
The Hebrew Scriptures reveal a God who dwells with his people—first in a tent in the wilderness and then in the Jerusalem temple. The New Testament takes this idea of God's dwelling place on earth a giant step further by revealing a God who wants to dwell not merely with his people but within his people. Occasionally, Scripture reverses this imagery in a wonderful way by picturing God himself as our Dwelling Place or Maon (ma-OHN).
Closely allied to this image of Dwelling Place is the idea of God as our Refuge or Machseh (mach-SEH). He is pictured as one to whom we can run for safety and security. The word "refuge" also appears in the Hebrew Scriptures in connection to Israel's "cities of refuge" (the Hebrew word in this instance is miqlat), where people could flee for safety if they had accidentally killed someone. These cities were strategically located so that anyone in Israel was within a day's journey of one.
A shield or Magen (ma-GAIN) is another image of God's protecting care. Ancient shields were often made of layered cowhide and were used in situations of close combat as well as to protect soldiers from rocks hurled from city walls.
In biblical times, some cities were enclosed by walls, 25 feet high and 15 to 25 feet thick. Farmers worked in the fields by day and then retreated within the city walls at night for protection. Large fortified cities also contained strongholds or strong towers that provided additional defense should the city's outer walls be breached. Like the other terms already mentioned, God is compared to a fortress or Metsuda (me-tsu-DAH) and to a strong tower or Migdal-Oz (mig-dal OHZ).
Studying the Name
One of the more unusual metaphors for God in the Bible is that of an eagle or a great bird under whose wings the righteous can shelter. Compare this with Jesus' more domestic image of a mother hen who longs to gather her chicks under her wings (see Matthew 23:37). How would your life be different if you were able to take shelter under "the wings of God"?
What is one of the characteristics of the person who experiences God as his or her refuge?
What do you think it means to rest in God? How have you experienced this rest?
What dangers does the psalmist list in Psalm 91? What promises from God does he cite?
What are the things you fear most?
What is the link between loving God and experiencing God's faithfulness?
For more from Ann Spangler, please visit her blogspot on Christianity.com. And be sure to check out Ann's newest books on AnnSpangler.com. To hear more from Ann Spangler, sign up today at annspangler.substack.com.
---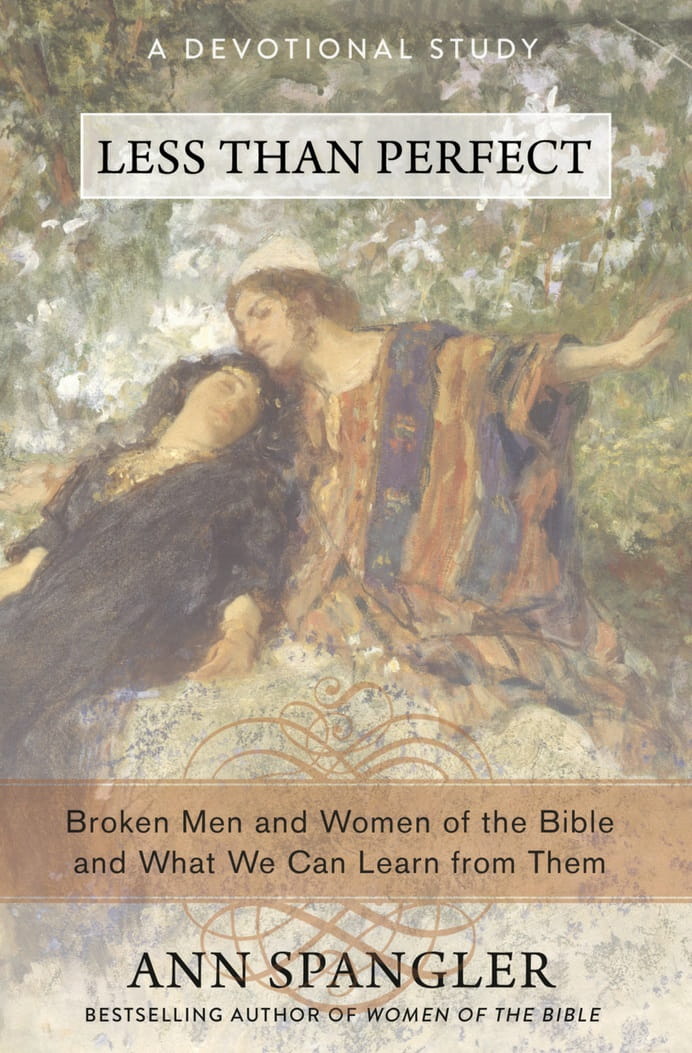 Meet your spiritual ancestors as they really were: Less Than Perfect: Broken Men and Women of the Bible and What We Can Learn from Them.