At Just the Right Time
It is easy for us to get anxious when it seems like God is moving more slowly than we would like.  But Scripture is clear, God's purposes have their appointed times.  They are fulfilled in their season.
Ecclesiastes 3:1 says,
To everything there is a season, a time for every purpose under heaven.
And there is 1 Peter 5:6-7, which says,
Therefore humble yourselves under the mighty hand of God, that He may exalt you in due time, casting all your care upon Him, for He cares for you.
Humility and God's exalting of you are two things that are tied together.  Perhaps you are feeling pretty frazzled, wondering, "God, when's it going to happen?"  Just continue to cast your cares on Him.  He will promote you in due time.  Do not worry about it.
In fact, the phrase that says, that He may exalt you in due time, literally means "at the set time" or "at the time prearranged by God."
When your character has been shaped and molded enough, and when other events are ready and in their proper place, then God will promote and exalt you. 
Think about Moses who had it in his heart to be a deliverer and a judge, but when he first acted on it he failed miserably.  He was 40 years early! (See Acts 7:23-34).  The Israelites were not ready to be delivered yet.  God had to work at the other end of the line.
Remember, God may have put some things in your heart, but the timing may not be quite right.  There may be some work He needs to do in your life, or there may be some other factors God is working on.  Until those things come together, God will not push you into that position.
So, focus on being faithful and let God worry about just the right time.
---
Visit the Answers with Bayless Conley website for more ways to connect with God.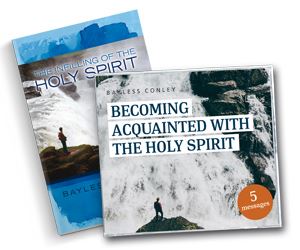 FEATURED RESOURCE

Know God in a deeper way!

The Holy Spirit's presence brings hope, joy, and comfort; and He longs to walk in deep fellowship with you every day.

We want to help you experience a more intimate friendship with God, by sending you the Knowing the Holy Spirit package.

It includes Bayless Conley's The Infilling of the Holy Spirit  booklet and his powerful 5-message series called Becoming Acquainted with the Holy Spirit.
It includes:

1. The Presence, Power, and Person of the Holy Spirit DVD
2. Expecting the Holy Spirit's Help DVD
3. Evidence of a Spirit-Filled Life CD
4. Speaking in Tongues CD
5. The Holy Spirit's Work in Our Hearts CD

Bayless Conley unpacks the benefits and evidences of being filled with the Spirit of God.

Find out what it means to live a Spirit-filled life!