Living for Whom?
Today I want us to return to Luke 12, but focus on verses 16-19,
Then He spoke a parable to them, saying:  "The ground of a certain rich man yielded plentifully.  And he thought within himself, saying, 'What shall I do, since I have no room to store my crops?'  So he said, 'I will do this:  I will pull down my barns and build greater, and there I will store all my crops and my goods.  And I will say to my soul, "Soul, you have many goods laid up for many years; take your ease; eat, drink, and be merry."'"
This guy is classic!  While he was rich, he was only rich toward himself.  He did not have any thoughts about being rich toward the Kingdom of God.  He was totally self-centered.
In fact, in the few short verses where this man speaks, verses 17, 18, and 19, he uses six "I"s, five "my"s, and four "I will"s.  He says, "My crops, my barns, my goods, my soul."  Pretty self-centered!
Yes, his land brought forth an incredible harvest, but who provided the fertile soil?  Who provided the rain?  Who provided the sunshine?  Who gave him his health?  Who gave him the ability to think and plan?  In fact, for that matter, who gave him his soul?
In Ezekiel 18:4 God says, "All souls are Mine."
This man totally left God out of his plans.  Everything he did, he did for himself.  And God said he was a fool.  On the very same day he made his boast, his soul was required of him. 
Instead of a barn, he had a burial; instead of living in the lap of luxury, he had to stand before God and give an account of his life.
---
Visit the Answers with Bayless Conley website for more ways to connect with God.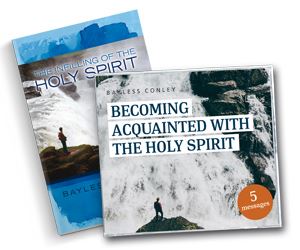 FEATURED RESOURCE

Know God in a deeper way!

The Holy Spirit's presence brings hope, joy, and comfort; and He longs to walk in deep fellowship with you every day.

We want to help you experience a more intimate friendship with God, by sending you the Knowing the Holy Spirit package.

It includes Bayless Conley's The Infilling of the Holy Spirit  booklet and his powerful 5-message series called Becoming Acquainted with the Holy Spirit.
It includes:

1. The Presence, Power, and Person of the Holy Spirit DVD
2. Expecting the Holy Spirit's Help DVD
3. Evidence of a Spirit-Filled Life CD
4. Speaking in Tongues CD
5. The Holy Spirit's Work in Our Hearts CD

Bayless Conley unpacks the benefits and evidences of being filled with the Spirit of God.

Find out what it means to live a Spirit-filled life!