The Power of Proclamation
In our last few devotionals, we have seen we are to pray for the unsaved and live lives that shine the gospel.
But there does come a time to speak up.  Look at Romans 10:13-14,
For "whoever calls on the name of the LORD shall be saved."  How then shall they call on Him in whom they have not believed?  And how shall they believe in Him of whom they have not heard?  And how shall they hear without a preacher?
When the time does come to speak up, a lot of Christians are like arctic rivers:  frozen at the mouth.  But someone must tell the story!
Pray for the unsaved, let your light shine, and when the time comes, tell them the gospel story.  Paul said in Romans 1:16, I am not ashamed of the gospel of Christ, for it is the power of God to salvation for everyone who believes.
Through just a simple proclamation of the message, many people, when they hear it, will believe and be saved.  The reason for that is found in Romans 10:17,
So then faith comes by hearing, and hearing by the word of God.
A proclamation of the message causes faith to arise in people's hearts.  Just simply tell them the gospel story:  Mankind was separated from God,  Jesus paid the price for their sins,  He was raised from the dead, and if you put your trust in Him, you can be saved.
As well as opening your mouth to share the Good News, you might consider writing letters to your friends to simply and clearly share the gospel.  Incorporate your own story if you feel it would be helpful.
It is easy to share the gospel if you just remember three things:  our rebellion, our ransom, and our response.  With those three things, you can share the gospel with anyone.
---
Visit the Answers with Bayless Conley website for more ways to connect with God.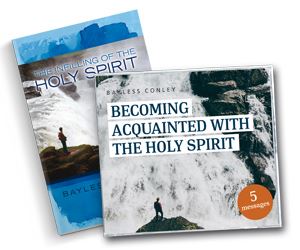 FEATURED RESOURCE

Know God in a deeper way!

The Holy Spirit's presence brings hope, joy, and comfort; and He longs to walk in deep fellowship with you every day.

We want to help you experience a more intimate friendship with God, by sending you the Knowing the Holy Spirit package.

It includes Bayless Conley's The Infilling of the Holy Spirit  booklet and his powerful 5-message series called Becoming Acquainted with the Holy Spirit.
It includes:

1. The Presence, Power, and Person of the Holy Spirit DVD
2. Expecting the Holy Spirit's Help DVD
3. Evidence of a Spirit-Filled Life CD
4. Speaking in Tongues CD
5. The Holy Spirit's Work in Our Hearts CD

Bayless Conley unpacks the benefits and evidences of being filled with the Spirit of God.

Find out what it means to live a Spirit-filled life!