Don't Lose Out
In 1 Samuel 15:18-19, 24-26, Samuel, the prophet, comes to King Saul, and this is what he says,
"Now the LORD sent you on a mission, and said, 'Go, and utterly destroy the sinners, the Amalekites, and fight against them until they are consumed.'  Why then did you not obey the voice of the LORD?  Why did you swoop down on the spoil, and do evil in the sight of the LORD?"…  Then Saul said to Samuel, "I have sinned, for I have transgressed the commandment of the LORD and your words, because I feared the people and obeyed their voice.  Now therefore, please pardon my sin, and return with me, that I may worship the LORD."  But Samuel said to Saul, "I will not return with you, for you have rejected the word of the LORD, and the LORD has rejected you from being king over Israel."
Saul disobeyed God and then lied about it, tried to cover it, and tried to shift the blame to the people.  Did you notice that part?  Why?  Because he feared the people.
Because of the fear of man, Samuel said to him, "You have lost your place."  Later on he says, "God has found a man better than you, a man after His own heart."  And He chose David to replace Saul as the king of Israel.
I want you to think about this:  God had promised Saul that his seed would sit on the throne, but it was a conditional promise God gave to him.
Saul lost out because of his disobedience caused by the fear of man, and so did his offspring!  And David, a better man than Saul, ended up on the throne of Israel, through whom our Savior came.
If the fear of man can rob us of our destiny and affect our offspring, just think what faith in God can do! 
---
Visit the Answers with Bayless Conley website for more ways to connect with God.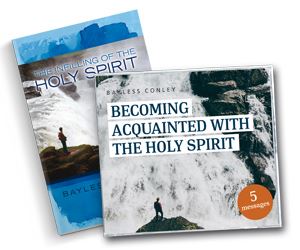 FEATURED RESOURCE

Know God in a deeper way!

The Holy Spirit's presence brings hope, joy, and comfort; and He longs to walk in deep fellowship with you every day.

We want to help you experience a more intimate friendship with God, by sending you the Knowing the Holy Spirit package.

It includes Bayless Conley's The Infilling of the Holy Spirit  booklet and his powerful 5-message series called Becoming Acquainted with the Holy Spirit.
It includes:

1. The Presence, Power, and Person of the Holy Spirit DVD
2. Expecting the Holy Spirit's Help DVD
3. Evidence of a Spirit-Filled Life CD
4. Speaking in Tongues CD
5. The Holy Spirit's Work in Our Hearts CD

Bayless Conley unpacks the benefits and evidences of being filled with the Spirit of God.

Find out what it means to live a Spirit-filled life!