No Worries
I trust that these words from Isaiah will encourage you today.  Read carefully what God has to say,
"I, even I, am He who comforts you.  Who are you that you should be afraid of a man who will die, and of the son of a man who will be made like grass?  And you forget the LORD your Maker, who stretched out the heavens and laid the foundations of the earth; You have feared continually every day because of the fury of the oppressor, when he has prepared to destroy.  And where is the fury of the oppressor?... But I am the LORD your God, who divided the sea whose waves roared—the LORD of hosts is His name" (Isaiah 51:12-13 and 15).
God spans the heavens with the palm of His hand.  The nations are as a drop in the bucket before Him.  There is nothing too hard for Him, and nothing He cannot do.
A number of years ago, I had the chance to go elk hunting with a friend in Montana.  We were lying outside under the stars, and I was unprepared for the glory I saw.  I have never seen so many stars in my life!  It took my breath away!
As we lay there, I said, "You know what?  God spans the heavens with His hand, and you and I are worried about paying the rent!"  It was just one of those moments.  We both just cracked up at how ridiculous it was to worry when God was so big.
What are you worrying about today?  Whatever it is, place it into God's hands.  After all, His hand spans the entire universe! 
---
Visit the Answers with Bayless Conley website for more ways to connect with God.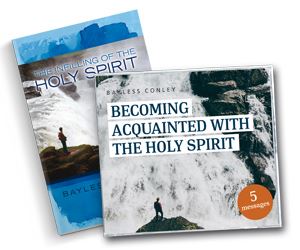 FEATURED RESOURCE

Know God in a deeper way!

The Holy Spirit's presence brings hope, joy, and comfort; and He longs to walk in deep fellowship with you every day.

We want to help you experience a more intimate friendship with God, by sending you the Knowing the Holy Spirit package.

It includes Bayless Conley's The Infilling of the Holy Spirit  booklet and his powerful 5-message series called Becoming Acquainted with the Holy Spirit.
It includes:

1. The Presence, Power, and Person of the Holy Spirit DVD
2. Expecting the Holy Spirit's Help DVD
3. Evidence of a Spirit-Filled Life CD
4. Speaking in Tongues CD
5. The Holy Spirit's Work in Our Hearts CD

Bayless Conley unpacks the benefits and evidences of being filled with the Spirit of God.

Find out what it means to live a Spirit-filled life!