Let God Do His Job
Philippians 2:8-11 shows us how humility precedes honor,
And being found in appearance as a man, He humbled Himself and became obedient to the point of death, even the death of the cross.  Therefore God also has highly exalted Him and given Him the name which is above every name, that at the name of Jesus every knee should bow, of those in heaven, and of those on earth, and of those under the earth, and that every tongue should confess that Jesus Christ is Lord, to the glory of God the Father. 
If God's good pleasure and His plan are to be worked out in our lives, we must walk in humility.  It is a prerequisite for us to pass the test of humility.  As we see here, because Jesus humbled Himself, God highly exalted Him.  And at that point, no demon in hell could do a thing to prevent it.
When God promotes you, no person, no demon, no ungodly system can hold you back.  God's exalting power is irresistible.  It is undeniable, and it is undefeatable.
But a humble heart must come first.  It has been said that no man stands taller than when he is on his knees before God.  Let us humble ourselves and be obedient to God in every area of our lives.  If we will lower ourselves, God will lift us.  God's job is to exalt us, and our job is to humble ourselves.  If we try to do God's job for Him, He will have to do our job for us. 
---
Visit the Answers with Bayless Conley website for more ways to connect with God.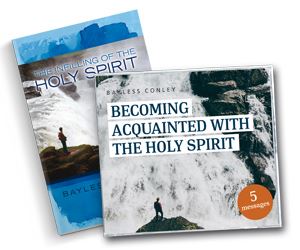 FEATURED RESOURCE

Know God in a deeper way!

The Holy Spirit's presence brings hope, joy, and comfort; and He longs to walk in deep fellowship with you every day.

We want to help you experience a more intimate friendship with God, by sending you the Knowing the Holy Spirit package.

It includes Bayless Conley's The Infilling of the Holy Spirit  booklet and his powerful 5-message series called Becoming Acquainted with the Holy Spirit.
It includes:

1. The Presence, Power, and Person of the Holy Spirit DVD
2. Expecting the Holy Spirit's Help DVD
3. Evidence of a Spirit-Filled Life CD
4. Speaking in Tongues CD
5. The Holy Spirit's Work in Our Hearts CD

Bayless Conley unpacks the benefits and evidences of being filled with the Spirit of God.

Find out what it means to live a Spirit-filled life!