Faithfulness and Open Doors
In 1 Timothy 1:12 Paul writes,
And I thank Christ Jesus our Lord who has enabled me, because He counted me faithful, putting me into the ministry.
According to Paul, Jesus did three things.  First, He enabled him, which means Jesus is the One who puts the gifting in you.  He is the One who gives you talent.  He is the One who gives you the ability. 
Second, Paul says that Jesus counted him faithful.  Apparently, Jesus is watching and He expects you and me to be faithful.
Third, Paul says that Jesus put him into the ministry.  In other words, Jesus opens doors when we are faithful, doors that no man can shut.  When the way seems blocked, Jesus can make a way where there is no way.
Here is the point.  It is not enough just to be enabled.  Some of the greatest, most gifted, and talented people in the world are living far, far below their potential.  While the enablement is there, Jesus has not found them faithful yet, and so certain doors of opportunity remain shut.
Having the gifting is not enough.  You need to have both the gifting and be faithful.  When both are there, Jesus opens doors.
Recognize and develop the gifting God has given you, but focus on being faithful so that God can open doors in your life.
Here are a few other verses that also make it clear that faithfulness is the road between enablement and open doors,
A faithful man will abound with blessings, but he who hastens to be rich will not go unpunished (Proverbs 28:20).
"His lord said to him, 'Well done, good and faithful servant; you were faithful over a few things, I will make you ruler over many things.  Enter into the joy of your lord'" (Matthew 25:21). 
---
Visit the Answers with Bayless Conley website for more ways to connect with God.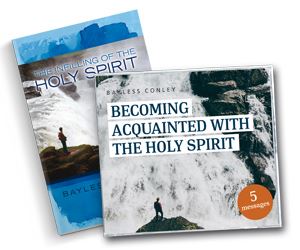 FEATURED RESOURCE

Know God in a deeper way!

The Holy Spirit's presence brings hope, joy, and comfort; and He longs to walk in deep fellowship with you every day.

We want to help you experience a more intimate friendship with God, by sending you the Knowing the Holy Spirit package.

It includes Bayless Conley's The Infilling of the Holy Spirit  booklet and his powerful 5-message series called Becoming Acquainted with the Holy Spirit.
It includes:

1. The Presence, Power, and Person of the Holy Spirit DVD
2. Expecting the Holy Spirit's Help DVD
3. Evidence of a Spirit-Filled Life CD
4. Speaking in Tongues CD
5. The Holy Spirit's Work in Our Hearts CD

Bayless Conley unpacks the benefits and evidences of being filled with the Spirit of God.

Find out what it means to live a Spirit-filled life!