Exceedingly Great and Precious Promises
2 Peter 1:2-4 says,
Grace and peace be multiplied to you in the knowledge of God and of Jesus our Lord, as His divine power has given to us all things that pertain to life and godliness, through the knowledge of Him who called us by glory and virtue, by which have been given to us exceedingly great and precious promises, that through these you may be partakers of the divine nature, having escaped the corruption that is in the world through lust.
I want to draw your attention to verse 4 where the Scripture states that through the promises we partake of God's nature.
The promise is the connector, it is the pipeline through which God's nature flows to us.
"What is God's nature?" you might ask.  It is the answer to everything you need!  His nature is life, it is health, it is peace, it is wisdom, it is abundance.  There is an answer in God's nature for every one of mankind's needs.
That is why the promises are called "exceedingly great and precious."  Without a promise, there is no pipeline.  Without a promise, we cannot partake.
But when you take a promise—an exceedingly great and precious promise—and act upon it in faith, God's nature is released into your situation.
Thank God for His promises! 
---
Visit the Answers with Bayless Conley website for more ways to connect with God.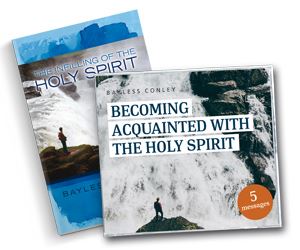 FEATURED RESOURCE

Know God in a deeper way!

The Holy Spirit's presence brings hope, joy, and comfort; and He longs to walk in deep fellowship with you every day.

We want to help you experience a more intimate friendship with God, by sending you the Knowing the Holy Spirit package.

It includes Bayless Conley's The Infilling of the Holy Spirit  booklet and his powerful 5-message series called Becoming Acquainted with the Holy Spirit.
It includes:

1. The Presence, Power, and Person of the Holy Spirit DVD
2. Expecting the Holy Spirit's Help DVD
3. Evidence of a Spirit-Filled Life CD
4. Speaking in Tongues CD
5. The Holy Spirit's Work in Our Hearts CD

Bayless Conley unpacks the benefits and evidences of being filled with the Spirit of God.

Find out what it means to live a Spirit-filled life!