Richer Blessings
Jeremiah 23:3-4 says,
"But I will gather the remnant of My flock out of all countries where I have driven them, and bring them back to their folds; and they shall be fruitful and increase.  I will set up shepherds over them who will feed them; and they shall fear no more, nor be dismayed, nor shall they be lacking," says the LORD.
As we discovered in one of our earlier devotionals, God gives richer blessings to these who remain faithful (the remnant).  A good question to ask is, "What are the blessings for those who remain faithful?"
Jeremiah gives us a good clue,
They will have no fear.
They will lack for nothing.
They will be fruitful. 
They will increase.
Are you interested in increasing?  In fruitfulness?  In not being afraid?  God says those are things that happen to the remnant.  These are the rich blessings you will receive if you stay faithful, committed, and obedient.
I once read a story about an old member of the Brooklyn Dodgers, a pitcher named Harry Hartman.  In 1918, he was called up from the minors to pitch against the Pittsburgh Pirates.  It was his dream come true!  On his first pitch, the batter hit a single.  No big deal.
The next batter hit a triple.  Harry walked the next guy on four consecutive pitches.  The next batter hit a single.  Harry Hartman walked off the mound, went into the locker room, showered, put on his street clothes, went to a local naval recruiting office, and enlisted.  The next day he was in uniform and was never seen again in professional baseball.  He got discouraged and quit.
No matter what, do not give up!  Remain faithful, because God promises great blessings to those who stay the course.
---
Visit the Answers with Bayless Conley website for more ways to connect with God.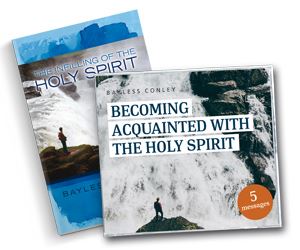 FEATURED RESOURCE

Know God in a deeper way!

The Holy Spirit's presence brings hope, joy, and comfort; and He longs to walk in deep fellowship with you every day.

We want to help you experience a more intimate friendship with God, by sending you the Knowing the Holy Spirit package.

It includes Bayless Conley's The Infilling of the Holy Spirit  booklet and his powerful 5-message series called Becoming Acquainted with the Holy Spirit.
It includes:

1. The Presence, Power, and Person of the Holy Spirit DVD
2. Expecting the Holy Spirit's Help DVD
3. Evidence of a Spirit-Filled Life CD
4. Speaking in Tongues CD
5. The Holy Spirit's Work in Our Hearts CD

Bayless Conley unpacks the benefits and evidences of being filled with the Spirit of God.

Find out what it means to live a Spirit-filled life!