March 3
MORNING
Trust in the Lord with all thine heart; and lean not unto thine own understand-ing. In all thy ways acknowledge him, and he shall direct thy paths.
Trust in him at all times; ye people, pour out your heart before him: God is a refuge for us.
I will instruct thee and teach thee in the way which thou shalt g I will guide thee with mine eye. Be ye not as the horse, or as the mule, which have no understanding: whose mouth must be held in with bit and bridle, lest they come near unto thee. Many sorrows shall be to the wicked: but he that trusteth in the Lord, mercy shall compass him about. — Thine ears shall hear a word behind thee, saying, This is the way, walk ye in it, when ye turn to the right hand, and when ye turn to the left.
If thy presence go not with me, carry us not up hence. For wherein shall it be known here that I and thy people have found grace in thy sight? is it not in that thou goest with us? so shall we be separated, I and thy people, from all the people that are upon the face of the earth.
PROV. 3:5,6. Psa. 62:8. Psa. 32:8‑10. ‑Isa. 30:21. Exo. 33:15,16.
EVENING
The prize of the high calling of God in Christ Jesus.
Thou shalt have treasure in heaven: ... come and follow me. — I am ... thy exceeding great reward.
Well done, thou good and faithful servant: thou hast been faithful over a few things, I will make thee ruler over many things: enter thou into the joy of thy lord. — They shall reign for ever and ever.
Ye shall receive a crown of glory that fadeth not away. — The crown of life. — A crown of righteousness. — An incorruptible crown.
Father, I will that they also, whom thou hast given me, be with me where I am; that they may behold my glory, which thou has given me. — So shall we ever be with the Lord.
I reckon that the sufferings of this present time are not worthy to be compared with the glory which shall be revealed in us.
PHI. 3:14. Matt. 19:21. ‑Gen. 15:1. Mark 25:21. ‑Rev. 22:5. I Pet. 5:4. ‑Jas. 1:12. ‑II Tim. 4:8. ‑I Cor. 9:25. John 17:24. ‑I Thes. 4:17. Rom. 8:18.
---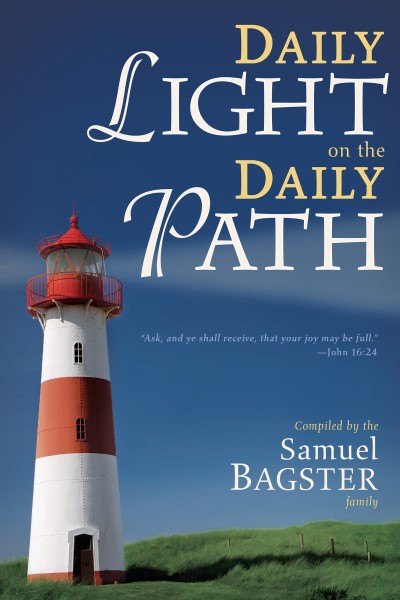 Purchase your own copy of this devotional.
Or, catch up on Daily Light on the Daily Path in our Archives.