Fear not, for I am with you; be not dismayed, for I am your God; I will strengthen you, I will help you, I will uphold you with my righteous right hand.
The story is told of a pastor who was moving his study to his new home—and therefore had to relocate his library of hundreds of books. But he was not without help. He had brought his four-year-old son along with him to carry some materials up the stairs. Not wanting to overtax the boy's small frame, this father had given his son a sheaf of papers and a couple of magazines to bring up. But as the pastor was coming back down the stairs, having just deposited a tall stack in the study, he heard his boy crying halfway up the stairs.
He rushed over to his little boy and found him struggling with a huge, oversized concordance. The father said to the son, "I never gave you this to struggle with. I never meant for you to carry such a heavy thing by yourself!" He then picked up his boy, picked up his boy's problem, and carried them both up the stairs.
How often we struggle with so much that God never gave us to carry on our own! We decide that we'd rather worry about this or fret about that, when God is not asking us to bear any of our burdens alone. Our Father desires that we cast all our anxieties on Him (1 Peter 5:7). Whether it is directly through the work of His Spirit or whether it is through the burden-sharing love of His people (Galatians 6:2), He wants to take you and your problems and carry both.
Picture that pastor picking up his son and his son's burden. Isaiah presents us with just such a picture of our God: one who is not only willing but also fully able to help us in our time of need. We have no cause for worry, fear, or dismay. He has committed Himself to strengthen and uphold us. He promises, "Even to your old age I am he, and to gray hairs I will carry you. I have made, and I will bear; I will carry and will save" (Isaiah 46:4).
What burdens are you carrying today? You have a God who is always near and infinitely strong. He will help you. He will carry you. All you have to do is ask Him.
As a thank-you from us for your gift, we'll send along this month's resource: How Christianity Transformed the World by Sharon James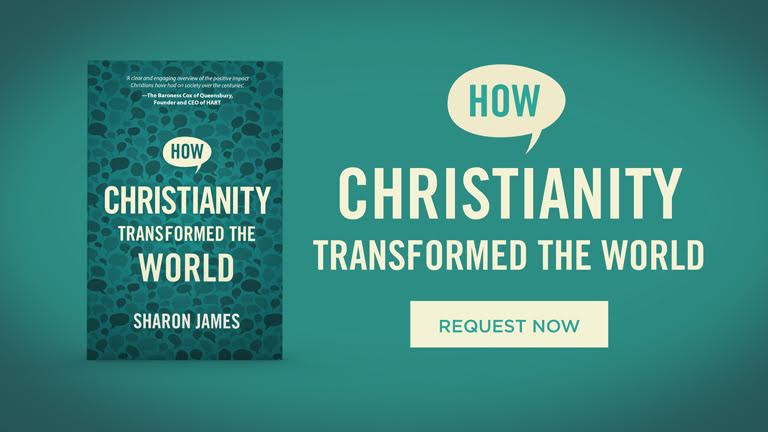 Click here to learn more about Truth For Life
Devotional material is taken from the Truth For Life daily devotional by Alistair Begg, published by The Good Book Company, thegoodbook.com. Used by Truth For Life with permission. Copyright © 2021, The Good Book Company.