God spoke all these words, saying, "I am the Lord your God, who brought you out of the land of Egypt, out of the house of slavery."
To faithfully read and respond to the Ten Commandments, we must first understand what they are and are not. We find clarity in the truth that lies at their head: "I am the LORD your God." This reminder of who God is precedes the instructions that follow. In other words, the I am of God's person grounds the you shall of His commands. He can command us because of who He is. The psalmist further expresses this: "Know that the LORD, he is God! It is he who made us, and we are his" (Psalm 100:3). God created us, and His being our Creator grants Him rights and authority over His creation. Regardless of the efforts of our world to reject the creational handiwork of God and thus His authority over our lives, His role as our Ruler remains unthreatened. He has made us; we are His.
When we remember who spoke the law, we are in a position to grasp the purpose of the Ten Commandments as well as to understand what they are not.
First, the commandments are not a formal list of dos and don'ts given to restrict our personal freedoms. God is not some cosmic killjoy. In fact, if you wanted to provide a heading for the Ten Commandments, you could call them "Guidelines to Freedom." They do not restrict our freedom but rather give us a blueprint for joy, showing us how life works best. Second, the commandments are not intended as a ladder up which we climb to attain acceptance with God. No such ladder has ever existed! God brought His people out of slavery—from Egypt in the exodus, and from sin and death at the cross—before He called us to obey Him. So we obey because we've been "brought out," not in order to persuade Him to do so. Rather than being rules that save us, the Ten Commandments serve as a mirror in which we see ourselves, revealing the depth of our sin and our need for a Savior—and they show how we can live to please our Savior. Third, the Ten Commandments have not been rendered obsolete by the coming of Christ. When Jesus said that the two greatest commandments were to love God and love our neighbor, He was summarizing the Ten Commandments (Mark 12:28-31). What does it mean to love God with our heart, soul, mind, and strength? The first four commandments tell us. What does it look like to love our neighbor as ourselves? The final six commandments flesh that out. Jesus, master teacher that He was, summed up the ten with the two.
When you see all this, you are ready to read the Ten Commandments and let them transform your life. You must see the sin that the commandments reveal and respond in repentance and faith in the one who fulfilled the law and offers Himself as your Savior. He, the Lord Jesus Christ, will ensure that this law is not merely etched into your conscience but also inscribed on your heart. Give yourself to the Lord and His ways, and you'll find everlasting joy and liberty.
As a thank-you from us for your gift, we'll send along this month's resource: How Christianity Transformed the World by Sharon James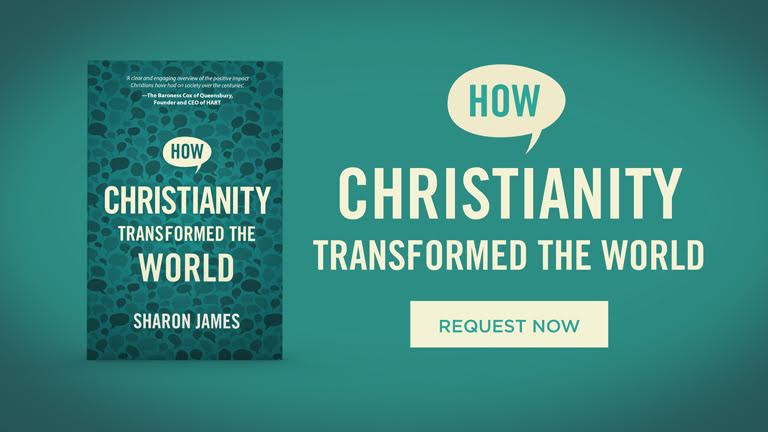 Click here to learn more about Truth For Life
Devotional material is taken from the Truth For Life daily devotional by Alistair Begg, published by The Good Book Company, thegoodbook.com. Used by Truth For Life with permission. Copyright © 2021, The Good Book Company.