Tuesday, June 7, 2022
Leaning on a Spider's Web
"The same happens to all who forget God. The hopes of the godless evaporate. Their confidence hangs by a thread. They are leaning on a spider's web" (Job 8:13-14 NLT).
Are you content with where you are spiritually, or do you find yourself taking two steps forward and three steps back? Maybe it seemed like you were growing in your relationship with Christ, and then you had a huge setback. Or maybe there's a pattern of sin in your life, and you can't seem to break free from it.
It's sort of like a Goliath that becomes more powerful with each passing day. Goliath wasn't born the nine-foot-six-inch man who faced off with young David in the Valley of Elah (see 1 Samuel 17). Eventually that little baby became a young man, who then became a full-grown giant of a man.
Maybe that's how you feel about your sin. It just gets larger and larger, and you don't know how to defeat it. Perhaps it has even caused you to become very depressed. I want you to know that you're loved by God. And you're loved by people more than you realize.
When we get depressed, I think it's usually due to one of these three things: (1) something we did in our past, (2) something we wish we had not done, or (3) something we wish we had not said.
Feeling this way is not unique to our time. In Job, the oldest book of the Bible, we read, "The hopes of the godless evaporate. Their confidence hangs by a thread. They are leaning on a spider's web" (Job 8:13-14 NLT).
Have you ever tried to lean on a spider's web? It won't hold you up, of course. In the same way, if you put your hope, your trust, in the things of this world and in what this culture offers you, then you will come up empty. But if you put your hope in God, everything can change for you.
Copyright © 2022 by Harvest Ministries. All rights reserved.
For more relevant and biblical teaching from Pastor Greg Laurie, go to www.harvest.org
and
Listen to Greg Laurie's daily broadcast on OnePlace.com.
Watch Greg Laurie's weekly television broadcast on LightSource.com.
SPECIAL OFFER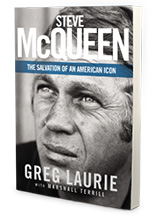 In thanks for your gift, you can receive Steve McQueen: The Salvation of an American Icon BOOK from Harvest Ministries
I love to tell stories—but I especially love to tell stories that point to Jesus. That's one of the reasons I wrote a book about acting legend Steve McQueen. Steve was the King of Cool, but at the end of his life, he encountered the King of Kings. As a result, an American icon became a child of God.
This book is our thank-you gift for your donation to Harvest Ministries today.