Ants, conies, locusts, lizards—sounds like a roll call for Noah's ark or perhaps the cast of characters in an animated feature film. Actually, these are four creatures discussed in Proverbs 30:24-28, each illustrating a quality wise people should possess. The opening statement declares, each of these four creatures is "small on the earth, but they are exceedingly wise" (v. 24). Each offers the reader an intriguing contrast: a noteworthy characteristic offsets a significant limitation. Naturally, these contrasts invite us to examine each creature and then appreciate how wisdom applied overcomes disadvantages.
The Ant
Sooner or later, everyone feels powerless or inadequate. That happened to me during my third year of seminary. By then, we had welcomed our first child, and I had become a pastoral assistant to my mentor, Dr. Dwight Pentecost, a position that allowed me to earn an adequate living. To those responsibilities, I added twenty-one credit hours and audited two other courses—not a good decision! Around that time, Cynthia's mother was dying of cancer, I passed two kidney stones, and a drunk driver slammed into our car, breaking our son's jaw and totaling the vehicle. To be honest, I felt like giving up. The demands on my time and energy stretched me to the breaking point. Medical expenses from the pregnancy and the accident rose like a mountain in front of me. Physically exhausted and spiritually drained, I was overcome with despair one particular evening. I stood behind our little dwelling under a giant Texas sky, staring into the starry expanse, feeling extremely tiny and inadequate, pouring out my heart to God.
Proverbs 30:25 states that the ants are not "strong." Unlike a great civilization of people, they are vulnerable to attack and easily destroyed. They thrive despite their lack of might because they don't quit. They serve their community without having taskmasters bark orders. They work each day to maintain a secure place to live. They dutifully gather food during times of plenty in order to survive inevitable difficulties. The ant provides a worthy example of how diligence, dedication, foresight, and industriousness—little by little, day by day—keep the colony fed, warmed, and protected.
On that difficult night, God reminded me that I wasn't responsible for anything except giving my very best to the day in front of me. I couldn't see how we would pay our bills, complete seminary, and make a comfortable home for our child, but I could take on the next day with diligence. Then, day by day and little by little, we emerged from that difficult season.
From Living the Proverbs by Charles R. Swindoll, copyright © 2012. Reprinted by permission of Worthy Inspired., an imprint of Hachette Book Group, Inc.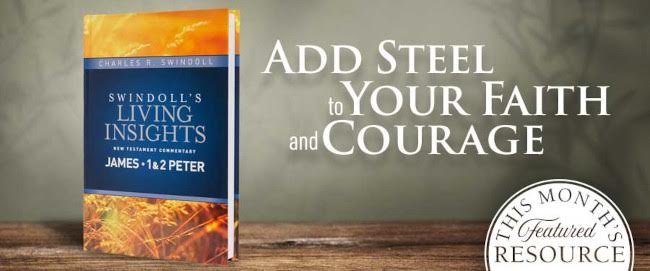 Used with permission. All rights reserved.
Listen to today's broadcast of Insight for Living with Chuck Swindoll at OnePlace.com.
Visit the Bible-teaching ministry of Chuck Swindoll at www.insight.org.