Consistent interaction with God's Word, regular time spent with a godly mentor, and a choice group of friends all combine to give us the greatest opportunity for growth in wisdom. To these, I would add one more suggestion.
Pay close attention to life's reproofs.
Wisdom shouts in the street,
She lifts her voice in the square;
At the head of the noisy streets she cries out;
At the entrance of the gates in the city she utters her sayings:
"How long, O naive ones, will you love being simple-minded?

And scoffers delight themselves in scoffing
And fools hate knowledge?
Turn to my reproof,
Behold, I will pour out my spirit on you;
I will make my words known to you." (1:20–23)
If you have been on this journey through the Proverbs for the last several months, perhaps you recall the time we spent studying these lines. Wisdom is personified as one who "shouts in the street" and "lifts her voice in the square." In other words, she doesn't hide; she's easily found. She doesn't whisper or garble her words; she speaks loud and clear. But where? And how? She tells us when she says, "Turn to my reproof." In life's reproofs wisdom shouts in our ears. God sends Lady Wisdom at the right time and with the right message when we are most apt to listen: after we fail at something.
God never wastes our time. He doesn't allow us to go through dark and dismal valleys or endure those long, winding, and painful paths for no reason. In each one are "reproofs" with wisdom attached. Many and foolish are those who simply grit their teeth and bear life's hard times. Few but wise are those who hear wisdom's voice and listen to her counsel.
Failures and foibles can become our greatest opportunities to grow in wisdom. Remain ever watchful for reproofs and never discount their source. God's reproving wisdom comes through the most unlikely means sometimes. Lessons will be obvious if we're not blinded by our pride. Watch for them. Listen carefully. Heed the voice of wisdom.
From Living the Proverbs by Charles R. Swindoll, copyright © 2012. Reprinted by permission of Worthy Inspired., an imprint of Hachette Book Group, Inc.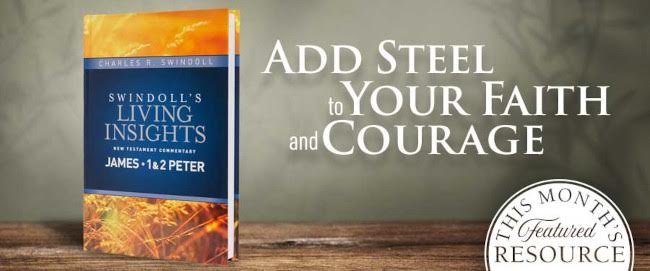 Used with permission. All rights reserved.
Listen to today's broadcast of Insight for Living with Chuck Swindoll at OnePlace.com.
Visit the Bible-teaching ministry of Chuck Swindoll at www.insight.org.