UNFINISHED BUSINESS
For I am confident of this very thing, that He who began a good work in you will perfect it until the day of Jesus Christ.  Philippians 1:6
When I was a kid growing up, I would often go to the store with my mom.  While she was shopping, I was looking at the toys.  The model airplanes and cars always looked so cool.  On several occasions, I coaxed her into buying me one of these models.
As soon as I would get home with a new model, I would start to work on it.  I was so excited and so gung ho.  However, I rarely finished any model I began.  I would get about halfway through, bog down in the details and lose interest.  During those growing up years, I threw away many half-finished model cars and planes.
GOD NEVER GIVES UP
Isn't it great to know that God never loses interest in us?  He never gets tired or bored with us and puts us back in the box unfinished and undone.  Once He begins a good work in us, He sees it through to completion and perfection.
When I was 17 years old, I received Christ as my Savior and Lord.  Jesus began a good work in me that day, and He will not stop the work until I am made perfect, just like Jesus.  The children's song says it best:
He's still working on me,
To make me what I ought to be.
Took Him just a week to make the moon and the stars,
The sun and the earth and Jupiter and Mars.
How loving and patient He must be.
He's still working on me.
QUESTIONS TO ANSWER
Has He begun a good work in you?  Have you really opened your heart to Him?  Is He really living inside you?  Are you really under His construction?
If so, praise Him for His commitment to complete you, perfect you, and make you like Christ.
If not, receive Him today and let Him the Lord of the universe be the Lord of you.
Love, 
Pastor Jeff Schreve,
From His Heart Ministries
---
Dr. Jeff Schreve believes that no matter how badly you may have messed up in life, God still loves you and has a wonderful plan just for you. From His Heart provides real truth, love and hope on over 700 radio stations each day, in 182 countries each week on TV, and is always available online.  Pastor Jeff takes no income from this ministry. All donations go to furthering the broadcast outreach. As a listener/viewer supported ministry, we thank you for joining with us to help speak the truth in love to a lost and hurting world. Go to www.fromhisheart.org for more information.
SPECIAL OFFER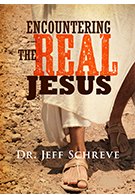 Jesus of Nazareth: Sadly, many people don't know who He really is and what He really came to do. Multitudes who say they follow Him have created a Jesus in their own image to satisfy their own desires. But Jesus is not the man they have made him out to be. Have you encountered the real Jesus? In this powerful series, Pastor Jeff Schreve shines biblical light on the true identity, character, mission and message of the One called Jesus. life is a walk with God. And the only way to please God in our walk with Him is to exercise faith. Paul said, "We walk by faith, not by sight" (2 Corinthians 5:7). In this five-message series Dr. Jeff Schreve gives practical, biblical encouragement to help you take God at His Word and step out on His promises, regardless of the circumstances.