What exactly is envy? How does it differ from its twin, jealousy? Envy (the more sophisticated of the two) is a painful and resentful awareness of an advantage enjoyed by another . . . accompanied by a strong desire to possess the same advantage. Envy wants to have what someone else possesses. Jealousy wants to possess what it already has. Jealousy is coarse and cruel. Envy is sneaky and subtle. Jealousy clutches and smothers. Envy is forever reaching, longing, squinting, thinking (and saying) sinister insinuations.
When you stop and think about it, envy is the worse of the two. God declared several times in His Word that He is a "jealous God" . . . but not once did He say He had envy.
Envy finds acceptable ways of expressing its resentment. One favorite method is the "but" approach. When I talk of someone I envy, I may say, "He is an excellent salesman, but he really isn't very sincere." Or "Yeah, she has a brilliant mind, but what a dull teacher!" Or "The man is an outstanding surgeon, but he doesn't mind charging an arm and a leg."
Another favorite avenue of expression envy enjoys to travel is the "reversal" approach. Someone does a good job, and I cast a shadow over it by questioning the motive. An individual gives a truly generous gift, and we mutter, "He's obviously trying to make an impression." A Christian couple buys a new car and a few pieces of nice furniture. Watch out! There will be somebody who will squeeze out an envious comment like, "Well, they probably don't tithe. We'd have a lot more money to spend if we didn't tithe."
One wag wrote this doggerel:
I hate the guys
Who minimize and criticize
The other guys
Whose enterprise
Has made them rise
Above the guys who criticize.1
The "unfavorable comparison" approach is equally cynical. The baritone does a commendable job on Sunday as an envious pew-sitter thinks, "Compared with so-and-so, he's a dud." Or "If you think my neighbor has a nice lawn, you ought to take a drive out to Palos Verdes. Those places will make the Franklins' grass look like it has the mange!"
It's a curious fact that envy is a tension often found among professionals, the gifted, and the highly competent. You know, doctors, singers, artists, lawyers, business men and women, authors, entertainers, preachers, educators, athletes, politicians, and all public figures. Strange, isn't it, that such capable folks find it nearly impossible to applaud others in their own field who excel a shade or two more than they? Envy's fangs may be hidden, but take care when the creature coils . . . no matter how cultured and dignified it may appear.
God's Word strongly admonishes us against envy; fortunately, it also tells us how to tame the monster within. We'll talk about that tomorrow.
Roy B. Zuck, The Speaker's Quote Book: Over 4,500 Illustrations and Quotations for All Occasions (Grand Rapids: Kregel, 1997), 93.
Excerpt taken from Come before Winter and Share My Hope by Charles R. Swindoll. Copyright © 1985, 1988, 1994 by Charles R. Swindoll, Inc. All rights reserved worldwide.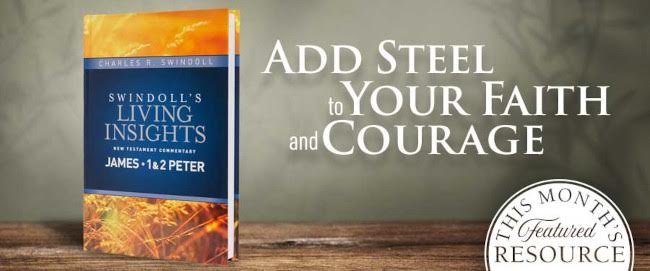 Used with permission. All rights reserved.
Listen to today's broadcast of Insight for Living with Chuck Swindoll at OnePlace.com.
Visit the Bible-teaching ministry of Chuck Swindoll at www.insight.org.