Erich Weiss was a remarkable man. By the time of his death he was famous around the world. Never heard of him, huh?
Maybe this will help. He was born of Hungarian-Jewish parentage at Appleton, Wisconsin, in 1874. He became the highest-paid entertainer of his day. That still doesn't help much, does it? This will.
When he finally got his act together, Weiss adopted a stage name: Harry Houdini . . . the master showman, a distinguished flyer, a mystifying magician, and—most of all—an unsurpassed escapologist.
On March 10, 1904, the London Daily Illustrated Mirror challenged Houdini to escape from a special pair of handcuffs they had prepared. Are you ready? There were six locks on each cuff and nine tumblers on each lock. Seven days later, 4,000 spectators gathered in the London Hippodrome to witness the outcome of the audacious challenge which Houdini had accepted.
At precisely 3:15 p.m., the manacled showman stepped into an empty cabinet which came up to his waist. Kneeling down, he was out of sight for a full twenty minutes. He stood up smiling as the crowd applauded, thinking he was free. But he was not. He asked for more light. They came on brighter as he knelt down out of sight. Fifteen minutes later he stood to his feet. Applause broke out—again, premature. He was still handcuffed. Said he just needed to flex his knees.
Down into the cabinet again went the magician. Twenty minutes passed slowly for the murmuring crowd before Houdini stood to his feet with a broad smile. Loud applause quickly stopped as the audience saw he was not yet free. Because the bright lights made the heat so intense, he leaped from the cabinet and twisted his manacled hands in front of him until he could reach a pocket knife in his vest. Opening the knife with his teeth, he held its handle in his mouth and bent forward to such a degree that the tail of his coat fell over his head. He grasped the coat, pulled it over his head, then proceeded to slash it to ribbons with the knife between his teeth. Throwing aside the strips of his heavy coat, he jumped back into the box as the audience roared its approval and cheered him on.
Down went Houdini, but this time for only ten minutes. With a dramatic flourish, he jumped from the box—wrists free—waving the bulky handcuffs over his head in triumph. Pandemonium exploded in London. Once again the showman had achieved the incredible—almost the impossible.
Afterwards, Houdini was interviewed. Everyone wanted to know why he had to interrupt the process of his escape as often as he did. With a twinkle in his eyes, the magician freely admitted that he really didn't have to interrupt the process. He repeatedly explained that his ability to escape was based on knowledge.
"My brain is the key that sets me free!" he often declared. Then why did he keep standing up before he was loose? He confessed it was because he wanted the audience's applause to keep up his enthusiasm!
Enthusiasm is powerful stuff. And it isn't important only to magicians and performers but also to ordinary folks like you and me . . . and to our God.
More on that tomorrow.
Excerpt taken from Come before Winter and Share My Hope by Charles R. Swindoll. Copyright © 1985, 1988, 1994 by Charles R. Swindoll, Inc. All rights reserved worldwide.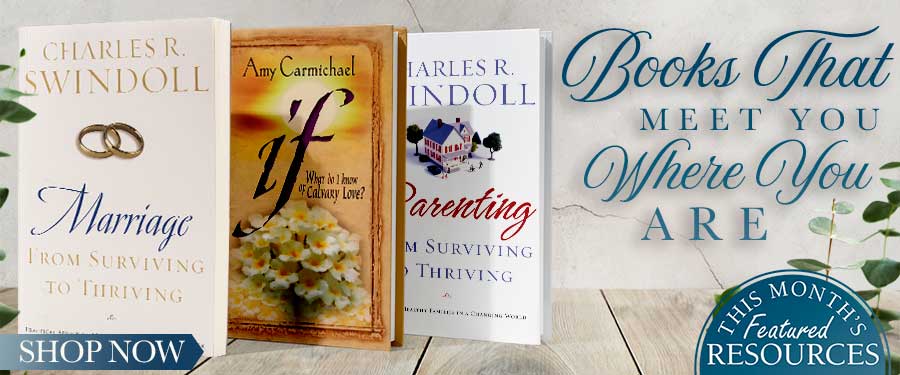 Used with permission. All rights reserved.
Listen to today's broadcast of Insight for Living with Chuck Swindoll at OnePlace.com.
Visit the Bible-teaching ministry of Chuck Swindoll at www.insight.org.