While studying the book of Proverbs, I discovered several principles that helped me understand money management from God's perspective. These aren't tax-saving tips or strategies for gaining wealth, although doing things God's way certainly can't hurt. The Lord is more concerned about how our handling of money affects our spiritual life and how our finances impact our relationship with Him and His people.
Here is the first principle:
Those who honor God with their money are blessed in return.
Honor the LORD from your wealth
And from the first of all your produce;
So your barns will be filled with plenty
And your vats will overflow with new wine. (Proverbs 3:9-10)

It is the blessing of the LORD that makes rich,
And He adds no sorrow to it. (10:22)

Adversity pursues sinners,
But the righteous will be rewarded with prosperity. (13:21)
I have said for years that you can tell much more about an individual's dedication to God by looking at that person's bank statement than by looking at his or her Bible. Again and again throughout Scripture, we read of the blessings God grants (not all of them tangible, by the way) to those who "honor the Lord" with their finances. In a practical sense, that means giving generously to both improve the lives of those less fortunate and enable those who do not know Christ to hear the good news.
Although Christians have the solemn duty of supporting the ministry of their local church, many find great joy in giving to ministries that accomplish kingdom work that they feel is important. For some, that's feeding the poor. Others financially support efforts to carry the gospel to foreign lands, provide health care to mothers in need, combat human trafficking, or supply clean water to remote villages.
Those who make riches their passion lose much more than they gain.
Do not weary yourself to gain wealth,
Cease from your consideration of it.
When you set your eyes on it, it is gone.
For wealth certainly makes itself wings
Like an eagle that flies toward the heavens. (23:4–5)
Who hasn't been tempted by some get-rich-quick scheme? And think of the thousands of people who are drawn into the broad and juicy appeal of investors who promise a killing. Beware of statements like "It's a once-in-a-lifetime opportunity!" and "Get in on the ground floor!" When you hear this kind of stuff, listen for the flapping of eagles' wings and heed instead the wisdom of Solomon's words!
He who tills his land will have plenty of food,
But he who follows empty pursuits will have poverty in plenty.
A faithful man will abound with blessings,
But he who makes haste to be rich will not go unpunished.
A man with an evil eye hastens after wealth
And does not know that want will come upon him. (28:19–20, 22)
From Living the Proverbs by Charles R. Swindoll, copyright © 2012. Reprinted by permission of Worthy Inspired., an imprint of Hachette Book Group, Inc.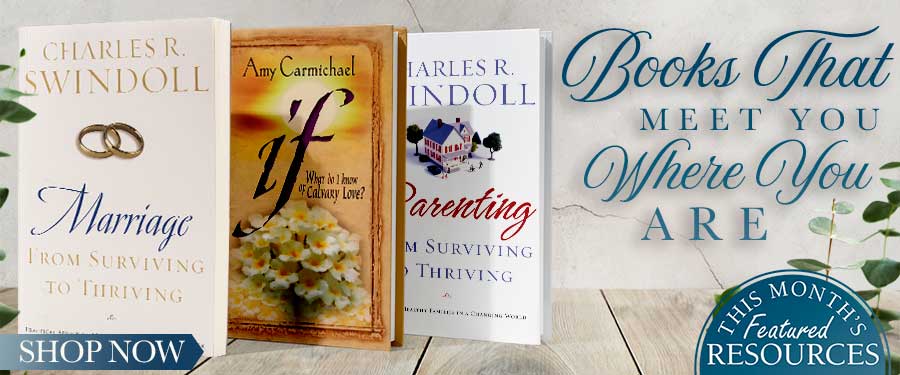 Used with permission. All rights reserved.
Listen to today's broadcast of Insight for Living with Chuck Swindoll at OnePlace.com.
Visit the Bible-teaching ministry of Chuck Swindoll at www.insight.org.